A trigger trombone is a type of trombone that features additional tubing that can be arranged in either an "open" or "closed" wrap. This additional tubing is activated by either a mechanical or string linkage, and allows players to easily reach the F key and lower tones. This attachment was invented by Christian Friedrich Sattler, a German instrument maker of the 19th century, and has since become a popular feature of many trombones.
The two types of trigger trombone – open and closed – are distinguished by the way the F-attachment tubing is arranged. The open wrap allows the F-attachment to extend beyond the crook of the bell section, while the closed wrap keeps the tubing confined within. While both types have their advantages, the majority of players prefer the open wrap as it provides a less restrictive airflow due to its fewer bends.
Despite the preference for open wraps, the closed wrap has its own unique benefits. Its tubing is better protected against dings and scratches, as well as damage to the tuning slide. Additionally, it is less exposed to accidents, making it a good option for beginners who are learning to play the instrument. As such, many beginners start with a closed wrap before transitioning to the open wrap.
Trigger trombones can operate with either mechanical or string linkage, and while they serve the same purpose, they differ in how they are constructed. Mechanical linkage has metal arms with ball and socket joints and requires less maintenance than a string linkage. The only disadvantage of mechanical linkage is that it produces a clicking noise. The string linkage, on the other hand, moves the parts of the valve with a string that is wrapped around them. Although it is quieter than mechanical linkage, the strings tend to break and need frequent adjustment.
In terms of valves, trigger trombones typically operate with rotary valves. Sattler was the first to implement this type of valve in 1839, making it a classic in the world of trombones. Its ergonomic design and short-throw make it easy to maintain, but it is prone to impeding airflow due to the angles it nests within. The axial flow valve is another option with fewer angles than the rotary valve, while the Thayer (Bach) and CL2000 (Conn) are known for their designs with improved airflow.
Now, which trigger trombones are the best?
Yamaha YSL-8820 Xeno Series F-Attachment Trombone
Yamaha YSL-8820 Xeno Series F-Attachment Trombone Lacquer Gold Brass Bell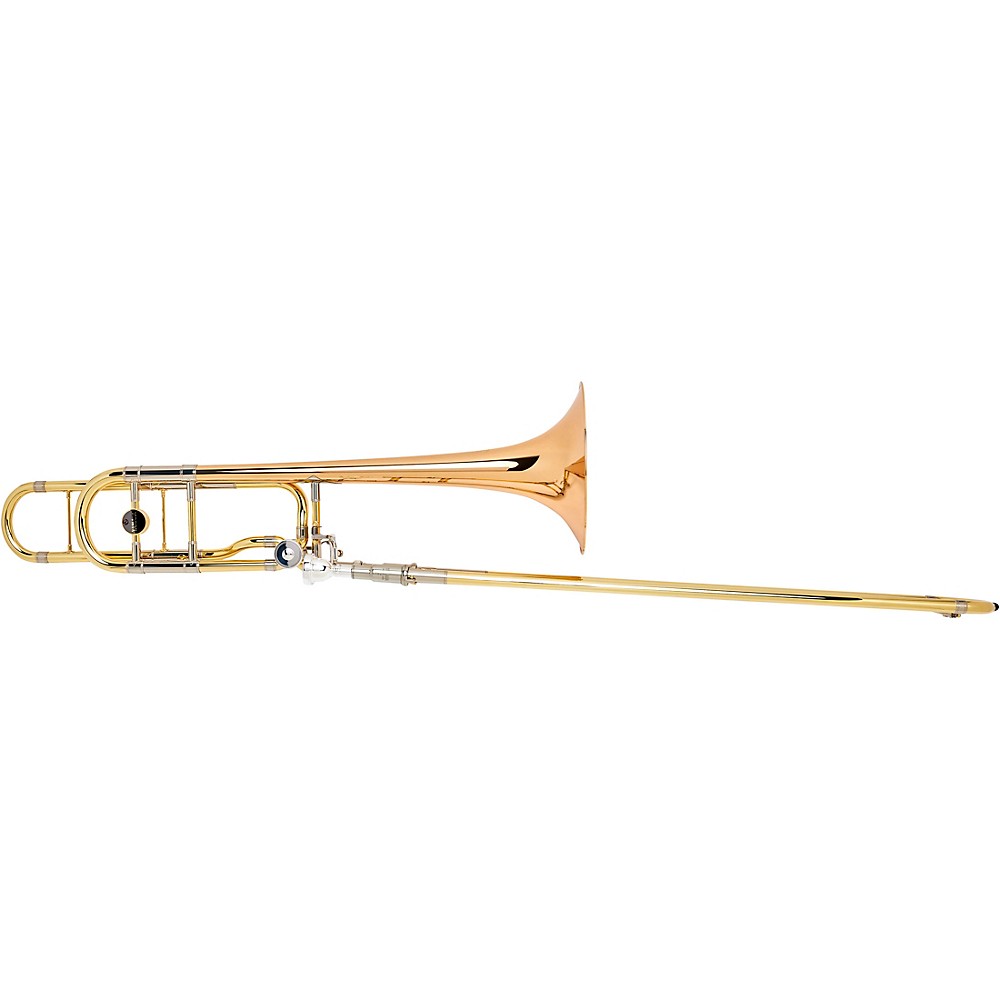 The YSL-882O Xeno Series F-Attachment Trombone by Yamaha is a top-of-the-line trigger trombone designed in collaboration with leading professionals in the music industry. With its impressive features, it has earned the respect of musicians worldwide. The bore size of the YSL-882O is .547 inches, which is a common size for trigger trombones. The leadpipe of this trombone is fixed and made of gold brass, which provides a bright and powerful tone.
The bell of the YSL-882O Xeno Series F-Attachment Trombone is 8-11/16 inches and is made of either yellow brass or gold brass. It is hand-hammered into a one-piece construction, resulting in a strong and resonant sound. The handslide of this trombone is of standard weight and is made of yellow brass drawn into a one-piece outer slide. The inner slide, on the other hand, is made of chrome-plated nickel silver drawn material. The handslide crook is also made of yellow brass.
The F-attachment wrap of this trombone is of an open type, which allows for smooth and free airflow through the instrument. The F-attachment valve is standard and is operated with mechanical linkage. This narrow handslide is designed to provide the player with a comfortable grip and better control over the instrument.
The YSL-882O Xeno Series F-Attachment Trombone comes with a durable case and a Peter Sullivan Replica Series mouthpiece, which has a large shank. The lacquer finish of this trombone not only enhances its appearance but also provides protection against corrosion and wear.
The YSL-882O Xeno Series F-Attachment Trombone is a high-quality trigger trombone that delivers excellent sound quality and versatility. Its construction, materials, and design features make it an ideal choice for professional musicians who demand the best in their musical instruments.
Available at Guitar Center 
---
Conn 88HO Symphony Series F Attachment Trombone
Conn 88HO Symphony Series F Attachment Trombone – Open Wrap example
The Conn 88HO trigger trombone boasts a large .547″ bore design, along with an open-wrap F-attachment that results in less resistance. This versatile instrument is equally suitable for solo or section work. Interestingly, the 88H has been in continuous production since it was first introduced by C.G. Conn in 1954, a feat that remains unmatched by any other American symphonic trombone. However, changes in musical tastes and literature requirements in the 1990s led to the development of the 88HO Symphonic Series, the second-generation 88H.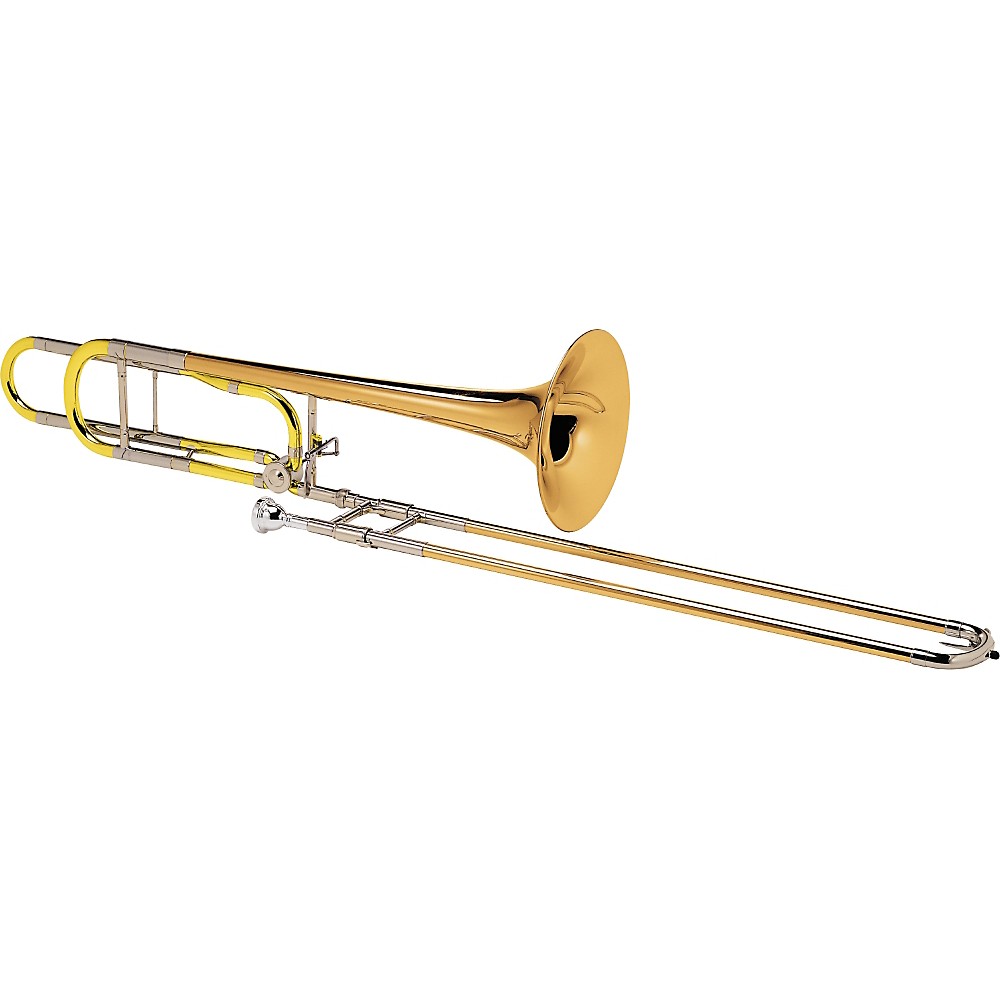 One of the main advantages of the 88HO model is its open-wrap F-attachment, which creates a free-blowing feel with less resistance than the standard 88H. In addition, the 88HO series also features the 88HKO, which offers a larger 9″ bell compared to the 8.5″ bells of the previous series. This larger throat bell delivers added resonance and projection, which are essential for today's demanding music.
In terms of specifications, the Conn 88HO trigger trombone has a fixed yellow brass leadpipe and standard weight handslide made from rose brass. The handslide crook is made from nickel silver, and the F-attachment wrap is open. The F-attachment valve is a standard rotor, and the trombone features a .562″ bore F-attachment and an adjustable thumb lever. It comes with a large shank Conn 5G mouthpiece and is available in either a lacquer or silver finish.
Available at Guitar Center 
---
Bach 42BO Stradivarius Series F-Attachment Trombone
Bach 42BO Stradivarius Series F-Attachment Trombone  –  trombone with mechanical linkage
The Bach Stradivarius 42BO trigger trombone is a highly popular instrument that is well-suited for advanced students and professional trombonists alike. The open-wrap design minimizes tubing bends, resulting in a free-blowing instrument that is a joy to play.
The 42BO's 547″ bore and 8.5″ one-piece hand-hammered bell produce a large, symphonic sound that projects clearly. This F-attachment trombone comes with a case and mouthpiece included, and features an open-wrap F attachment section. When the F attachment is engaged, the sound remains uniform, maintaining the same quality as the rest of the trombone.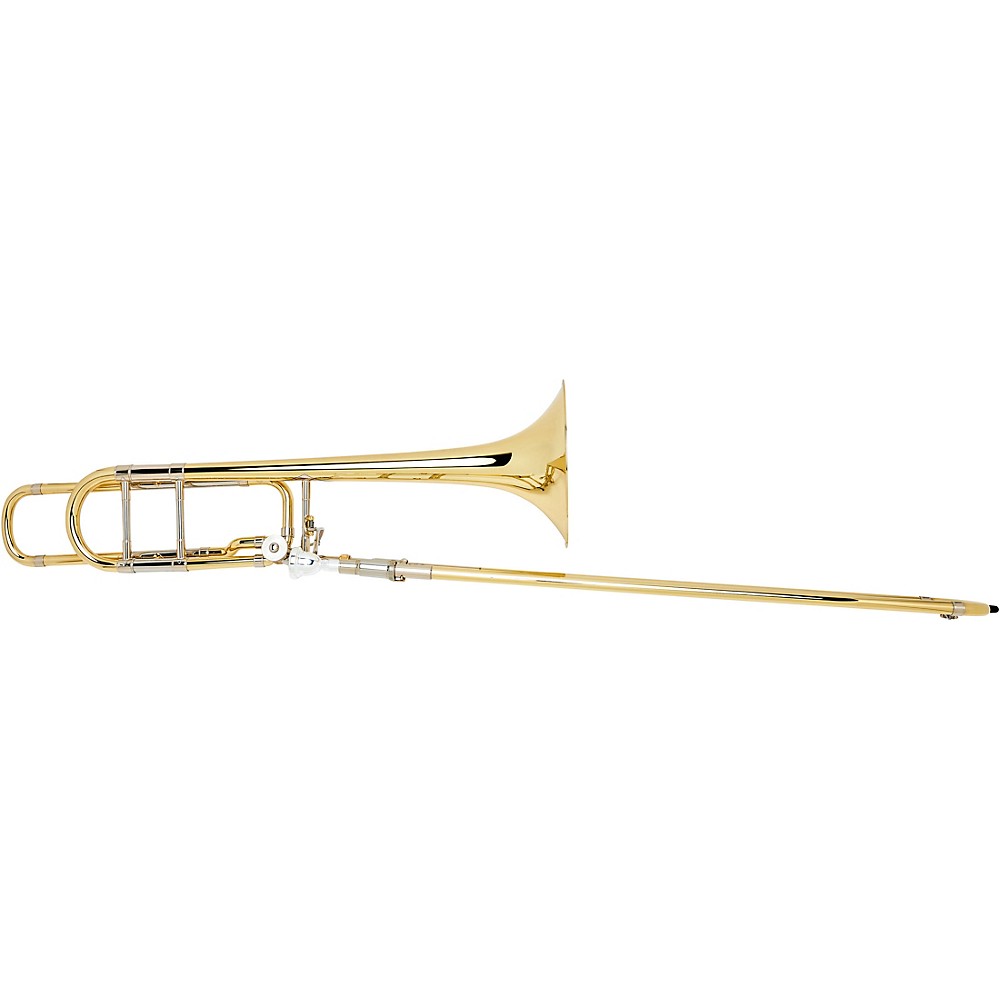 Bach Stradivarius trombones are famous for their fullness of sound and projection, achieved through the use of one-piece construction that allows for unrestricted vibration of the bell. The bell flare shape, as well as the material type and thickness, all play a role in the resulting sound. Gold brass, which is softer and has a higher copper content, produces a warm tone with a red tint. Silver-plated bells create a full complement of overtones for a focused sound with great projection. Heavyweight yellow or gold brass bells can be specially ordered for players who require an instrument for dark qualities or high-dynamic levels without distortion.
Lightweight hand slides, denoted by "LT" before the model number, feature nickel silver tubing on the outer slide tubes, reducing the weight of the slide and offering a quicker response than traditional yellow brass slides. Nickel silver tuning slide receivers and tubular nickel silver braces are also included for added durability.
The 42BO also features a ball-bearing rotor linkage, adding smoothness and precision to the F attachment. The trombone comes with a large shank Bach 6.5A mouthpiece and a 1867Deluxe wood shell case with an attached cover.
Available at Guitar Center 
---
King 2166 3B Valve Trombone
The King trigger trombone 2166 3B valve trombone is a true legend in the world of brass instruments. It is widely renowned for its exceptional musical qualities and responsiveness, which are largely thanks to the unique King valve section, combined with the outstanding characteristics of the King 3B trombone.
The trombone has a .481″ bore, which makes it easy to play and maneuver for players of all levels. The 8″ yellow brass bell produces a bright and clear sound that is full of character, and the lacquer finish adds a touch of elegance and durability to the instrument's overall appearance.
Included with the King trigger trombone 2166 3B valve trombone is a 12C mouthpiece, which is specifically designed to work harmoniously with the trombone's unique sound qualities, allowing players to achieve the best possible sound quality. The wood shell case provides added protection and security when transporting or storing the instrument, ensuring that it stays in top condition for years to come.
Overall, the King trigger trombone 2166 3B valve trombone is a superior choice for players who demand nothing but the best in terms of musical performance, responsiveness, and playability. With its exceptional sound quality and unique design features, it is no wonder why this trombone has become a legend in the world of brass instruments.
Available at Guitar Center 
---
Jupiter Jtb1100f Performance Series F-Attachment Trombone
Jupiter Jtb1100f Performance Series F-Attachment Trombone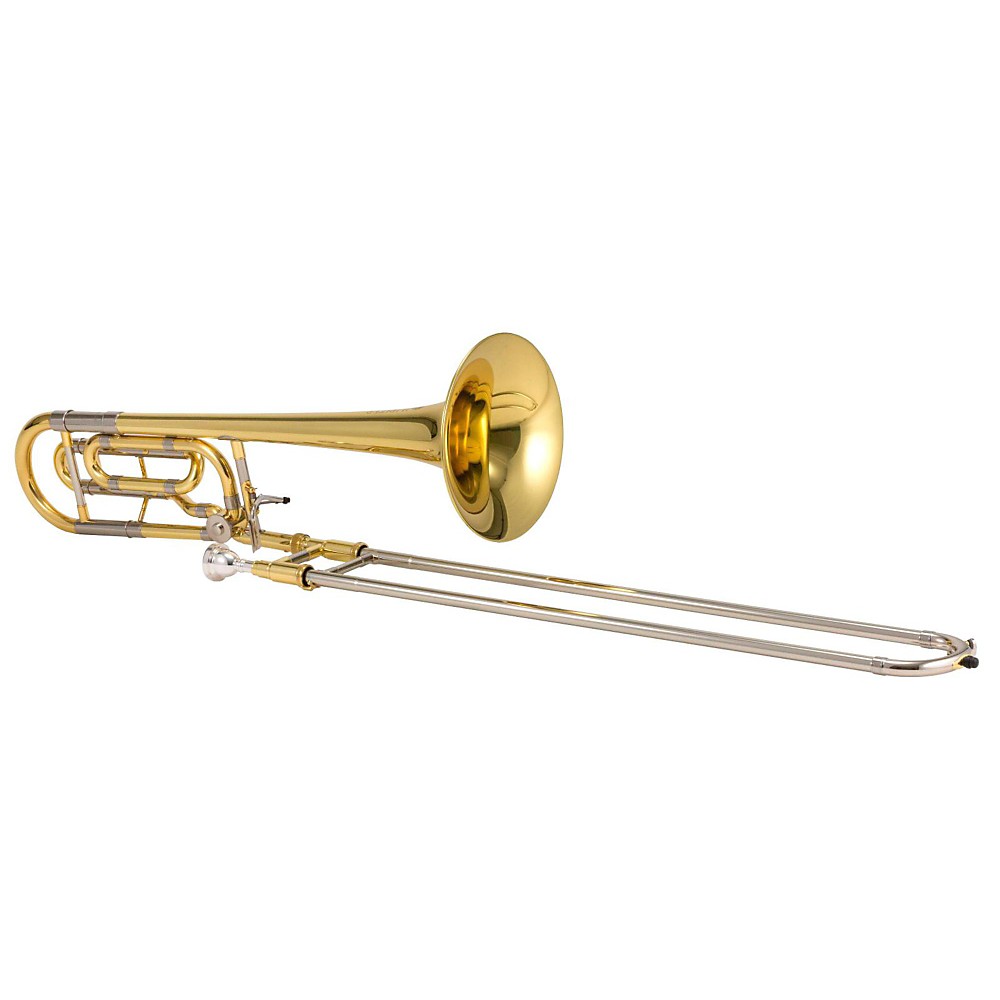 The Jupiter f trigger trombone JTB1100F is a perfect trombone to move into when searching for a quality, affordable intermediate trombone. This trombone features a medium-large bore for a more free-blowing instrument plus a modified open wrap F Attachment for less resistance.
If a student is fortunate enough for this instrument to be a possibility as a first horn, consider this an instrument that will see the student through his or her secondary low brass studies. Lacquered Brass Body is produced using state-of-the-art technology to ensure an instrument of the most accurate scale and playability.
A Nickel Silver Outer Slides provides increased resistance to denting or damage to the instrument.
Available at Guitar Center 
---
Getzen 547 Capri Series F Attachment Trombone 
Getzen 547 Capri Series F Attachment Trombone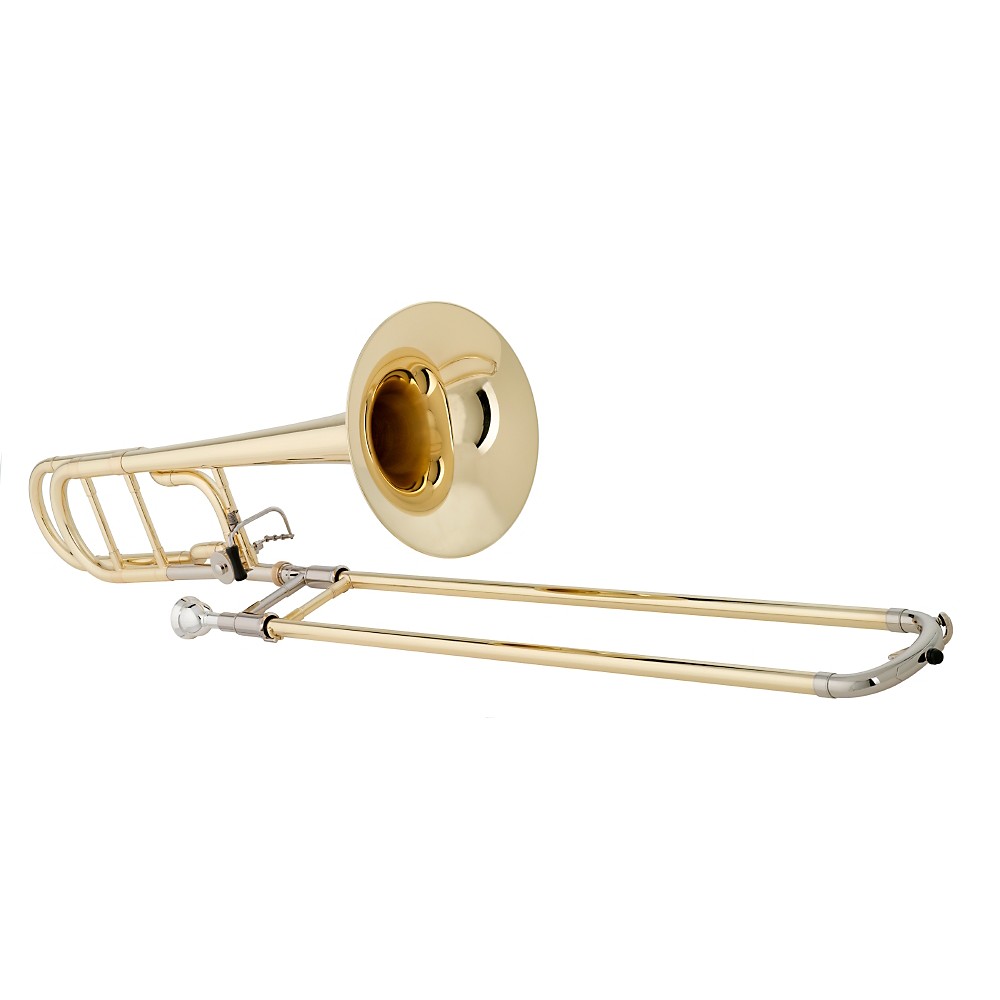 Getzen trigger trombone Capri blend affordability, dependability, and performance. Capri Trombones are designed for trombonists looking to move up from their student instrument or for more advanced players looking for an affordable F attachment alternative. The 547 trombone features a handspun bell, a hand-straightened slide, and a hand-lapped, conventional rotor. Professional-level features at step-up level prices.
Available at Guitar Center 
---
Schiller American Heritage Bronze Rose Trombone
Schiller American Heritage Bronze Rose Trombone
Featuring a closed wrap tubing design, the Schiller American Heritage Bronze Rose is a trombone with a distinctively darker tone that is popular among symphonic players. Its 8 3/8″ bell is crafted from yellow brass and is paired with nickel-plated chrome inner slides. The Schiller "F Attachment Valve" on this trombone has a freer blowing effect, contributing to the instrument's overall ease of use.
Included with the Schiller American Heritage Bronze Rose are a Genuine Schiller mouthpiece and an Enthral™ deluxe pod case, ensuring that the instrument can be safely transported and ready to play. Schiller band instruments are known for their hands-on approach, ensuring that they produce quality instruments that are accessible to musicians of all levels at affordable prices.
---
John Packer – Michael Rath Bb/F Tenor Trombone
Designed in collaboration with Michael Rath, a renowned trombone expert from the UK, the JP Rath Trombone is recognized for its beautiful, expansive sound. This trombone features a unique combination of a single in-line rotary valve with a contemporary open-wrap design, resulting in a one-of-a-kind JP Rath creation.
---
Double Trigger Bass Trombones
Allora Atbb-450 Vienna Series Bass Trombone 
Allora ATBB-450 Vienna Series Bass Trombone
The Allora ATBB-450 Vienna Series double trigger Bass Trombone is an affordable trombone for school programs or the advancing musician. The .562-inch bore offers a larger overall sound projected through the 9.5″ yellow brass bell. Featuring a standard leadpipe, inline traditional rotor, open wrap F-attachment design along with the well-weighted hand slide, the ATBB-450 is perfect for any school program or advancing musician. Comes complete with a premium nylon polyfoam case, a large shank mouthpiece, and a three-year warranty. A used or extraordinarily cheap instrument can actually lessen your child's likelihood of continuing in music.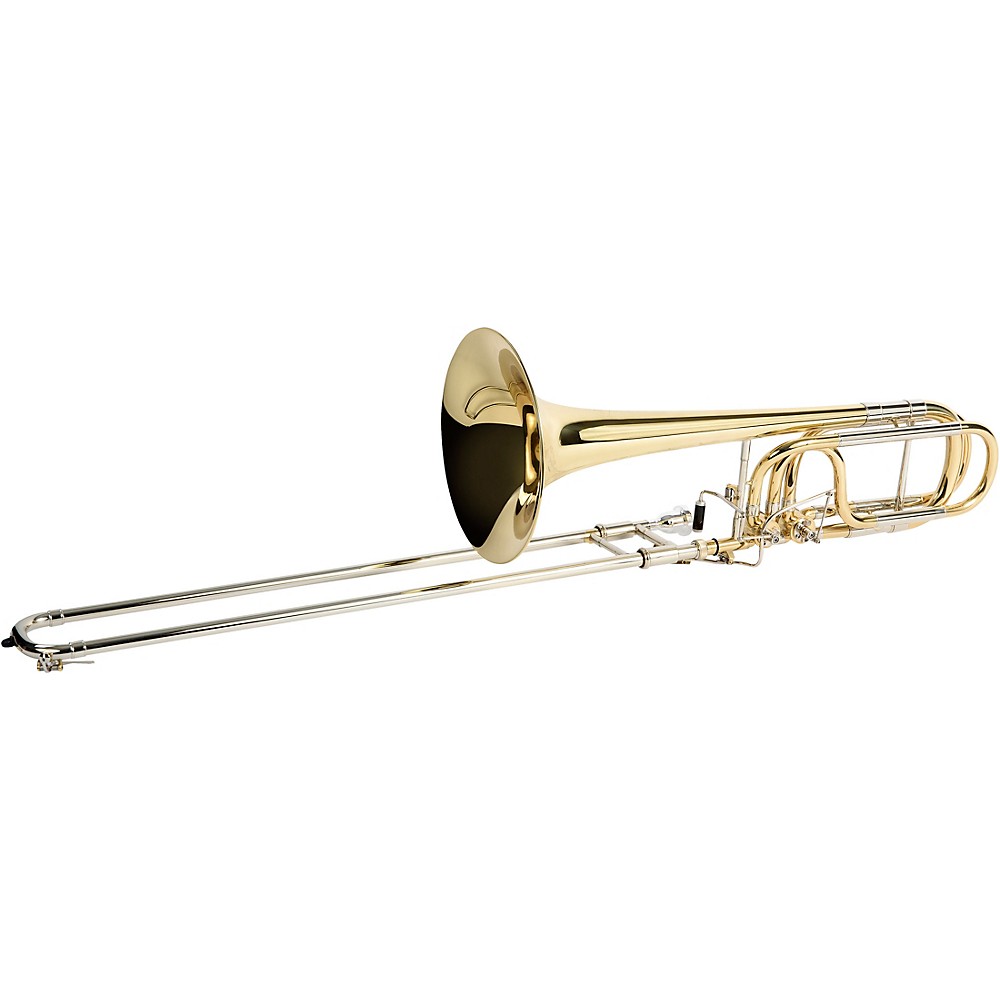 With the Allora Vienna series, you get a quality instrument that will play in tune, withstand student treatment, and inspire pride of ownership.  Allora instruments are carefully manufactured according to specifications and development accumulated over many years by our team of brass and woodwind buyers. The result is a line of instruments that play well, are durable and possess a satisfying tone and dynamics capability, all with a price that makes it much easier to get involved with music.
Available at Guitar Center 
---
Getzen 1052Fd Eterna Series Bass Trombone 
Getzen 1052FD Eterna Series Bass Trombone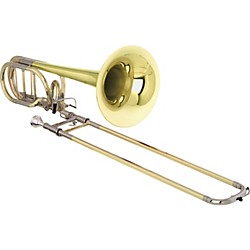 The Getzen 1052FD is a double-trigger bass trombone with several compelling design features. The special valve system allows the player to access the second (Gb) rotor without playing through the F. This allows the player several ways to simplify slide positions in the low range. The three interchangeable mouthpieces give the player the added advantage of being able to tailor the response of the instrument. From the large bore tenor feel of the number one pipe to the blending characteristics of two, to the wide-open sound of the number three.
All of these features are amplified by an amazingly efficient, dual gauge bell which is both powerful and beautiful sounding in all registers.
Available at
---
The trigger trombone is an incredible instrument that offers a wide range of benefits to musicians of all skill levels. With its ability to extend the lower range of the trombone, it allows players to tackle more complex musical pieces and express themselves in unique ways.
When looking for a trigger trombone, it's important to consider factors such as the quality of the instrument, the materials it's made from, and its overall playability. Whether you're a beginner or a professional, finding the right trigger trombone can make a world of difference in your playing experience.
Ultimately, the trigger trombone is a powerful and versatile instrument that has a lot to offer. It allows musicians to expand their range and experiment with new sounds, making it an essential part of any brass ensemble. If you're considering purchasing a trigger trombone, take your time and do your research to find the perfect instrument that meets your needs and helps you achieve your musical goals.