If you're looking for a new addition to your music arsenal, a plastic trombone may be just what you need. While they don't produce the same sound as metal trombones, they have a few advantages that make them worth considering.
What is a plastic trombone?
A plastic trombone is a type of trombone that is made from plastic. It is a newer type of trombone that has become popular in recent years because it is more affordable than other types of trombones and it is lighter weight. Thus, perfect for traveling. It also doesn't need to be tuned, which can be a challenge for beginners. It is also more durable than brass trombones and less likely to cause damage if it's dropped so it can withstand more wear and tear. 
Plastic trombones are available in different sizes, from soprano to bass. They are also available in a variety of colors, including pink, blue, and purple.
The best plastic trombones on the market
If you're looking for a great quality plastic trombone, there are a few great options that you should consider. We've rounded up the best products, so you can find the perfect one for your needs.
Attention all trombone enthusiasts! The Pbone Plastic Trombone has made its grand debut and is causing quite the buzz in the musical community. This revolutionary instrument is incredibly sturdy and robust, making it an excellent choice for those who want a trombone that can withstand the rigors of everyday use. Whether you're a seasoned professional or a beginner, the Plastic Trombone is easy to play, dependable, and most importantly, fun!
Made of high-quality plastic, this instrument is built to last and requires very little maintenance. Its lightweight design and compact size makes it easy to transport to gigs, rehearsals, or anywhere else you want to show off your musical talents. The plastic trombone is available in a range of eye-catching colors, so you can choose one that reflects your personality and style.
The Pbone Plastic Trombone comes with two plastic mouthpieces (6.5AL and 11C) and a convenient carry bag, so you can take it with you wherever you go. With this instrument, you'll be able to get started playing right away. The makers of Pbone have also created an abundance of online learning resources to help you master your new instrument quickly.
Whether you're planning a family picnic or performing at a large outdoor festival, the Pbone plastic trombone is a perfect choice. Its cheerful tone and bright orange color will make you the center of attention and the life of the party. So why wait? Get your hands on a Pbone plastic trombone today and experience the joy of playing this incredible instrument for yourself!
Also Available from GuitarCenter
---
The Tromba trombone is an excellent instrument for those who want to play music in a fun and easy way. Its high-quality plastic construction ensures that it is both durable and lightweight, making it ideal for outdoor events and performances. The trombone is also available in various colors, including bright and bold red, adding a touch of excitement and vibrancy to any performance.
One of the standout features of the Tromba trombone is its ease of playability, allowing both beginners and experienced players to enjoy playing it. The trombone has a beautiful sound that is sure to captivate audiences of all ages, making it a perfect choice for a family picnic or a large outdoor festival.
Moreover, the Tromba trombone's plastic construction provides many benefits, such as being easier to maintain than traditional brass instruments, as it does not require polishing. The instrument's light weight makes it more comfortable to hold and play for extended periods without causing fatigue, which is especially important for younger or novice players.
With the Tromba trombone, you will surely become the center of attention with its bright red color and cheerful tone that will add excitement to any musical performance. Whether you are an aspiring musician or a seasoned professional, the Tromba trombone is an excellent instrument that will help you create beautiful music and memories that will last a lifetime.
---
The Kaizer Trombone is a versatile and practical trombone for practice and learning. Made from ABS plastic, it is lightweight, rugged, and virtually indestructible, making it ideal for classrooms, band practices in open environments, and small children. The Bb/F trigger attachment and 0.547″ bore make this trombone versatile for a variety of applications. The 8.5″ bell and carbon fiber tuning slide produce a rich, full sound. The mouthpiece and soft travel bag make it easy to take this trombone on the go. The Kaizer Lifetime No-hassle Warranty guarantees your satisfaction.
---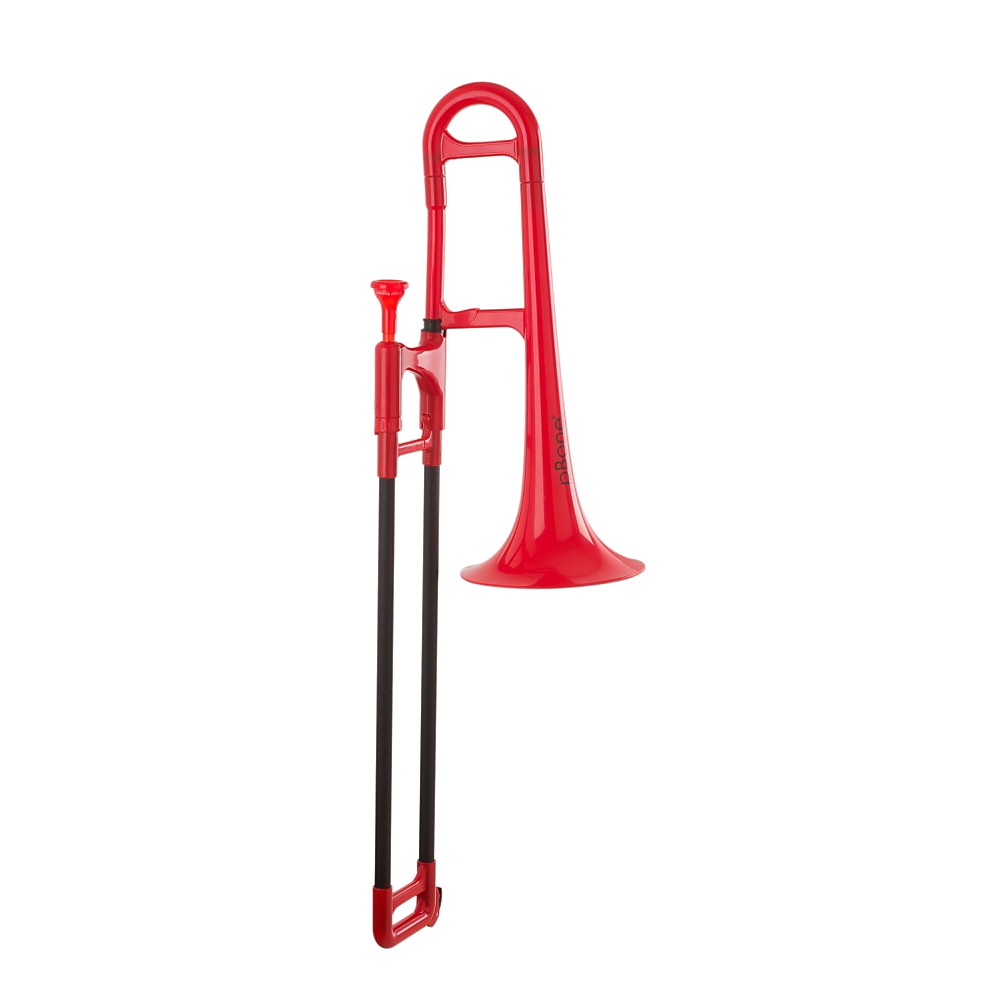 The pBone mini is a great option for kids who are interested in playing the trombone but may struggle with a full-size instrument. The smaller size is perfect for smaller hands and can be easier to hold and play. The all-plastic construction is not only durable but also lightweight, making it easier for kids to carry and maneuver. This also means that the pBone mini is virtually indestructible, able to withstand accidental bumps and drops that can occur when kids are learning to play.
What makes the pBone mini even more unique is its antimicrobial mouthpiece. This feature provides added safety and peace of mind for parents and educators. With concerns about germs and viruses being top of mind, having an instrument with an antimicrobial mouthpiece is a great option. It also means that the mouthpiece is eco-friendly, as it does not require harsh chemicals to keep it clean.
The pBone mini is also a fun and engaging way for kids to learn music. The colorful design and lightweight construction make it visually appealing and easy to use. Plus, with its smaller size, kids can play comfortably without feeling overwhelmed by a larger instrument. This can help build confidence and make learning music a more enjoyable experience.
Overall, the pBone mini is a great choice for parents and educators who want to introduce kids to the world of music. With its durable and lightweight construction, antimicrobial mouthpiece, and fun design, it is sure to provide hours of musical enjoyment for young players.
Also Available from GuitarCenter
---
Extrusion technologies and imaginative instrument builders have given rise to a new generation of plastic instruments, including the plastic trombone, which was the first of its kind to hit the market. The ATB100 Aere Plastic Trombone is a cost-effective alternative to a brass trombone, and it is made to precise specifications that were developed through extensive research to ensure sound quality.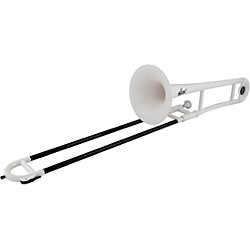 The ATB100 Aere Plastic Trombone is constructed from a lightweight, super-resilient, and toughened ABS plastic that makes it easy to hold and transport, and eliminates worries about dents and damage. This instrument is suitable for novice and professional players alike due to its responsive and versatile design.
The Allora brand, known for producing affordable brass instruments, now offers the AERE Series composite instruments, which are made from durable ABS plastic. These instruments are lighter and less expensive than their brass counterparts but still produce a high-quality and versatile sound.
The AERE Series features True Note Technology, which combines metal with ABS plastic to create structurally sound instruments with a unique blended brass tone. Additionally, the instruments are plated with a special process that gives them a remarkable metallic finish, making them as visually appealing as they are sonically impressive. The AERE Series instruments are suitable for use on the football field or concert stage, and they come in fun colors.
Overall, the availability of plastic construction instruments has revolutionized the world of musical instruments, making them more affordable, durable, and accessible to a wider range of players. With their lightweight design, excellent sound quality, and visual appeal, the ATB100 Aere Plastic Trombone and AERE Series composite instruments are excellent options for anyone looking to explore the world of plastic instruments.
How to choose the suitable plastic trombone for you
If you are in the market for a plastic trombone, there are several things you should keep in mind. One of the most significant benefits of plastic trombones is their durability. They are an ideal option for players who frequently travel or perform in outdoor settings, as they can withstand the wear and tear of such environments. In addition, plastic trombones are generally less expensive than their brass counterparts, making them a great option for beginners or those on a tight budget.
When selecting a plastic trombone, it is important to consider the instrument's overall quality. You should look for models with good intonation, as well as a responsive slide that moves smoothly. It is also essential to pay attention to the weight of the instrument, as some models can be quite heavy due to the materials used.
Another factor to consider when choosing a plastic trombone is the type of music you will be playing. While plastic trombones are suitable for a wide range of musical styles, some models may be better suited to certain genres. For example, if you primarily play jazz, you may want to consider a trombone with a smaller bore size for a brighter, more focused sound.
Ultimately, the best way to choose a plastic trombone is to try out several different models and see which one feels and sounds best to you. The weight and balance of the instrument, the size of the bore, and the quality of the materials used are all factors to consider. With the right instrument, you can enjoy playing music for years to come.