Nearly all trombonists specialize in tenor trombone or bass trombone. These trombones are the two main sizes and the most popular in the trombone family along with the alto trombone. Between these two, the former is the more popular.
When people talk about the trombone, they are likely referring to the tenor trombone. For this article, we will focus on bass trombones and get to know some of the best ones in the market today.
Bass trombones are not as popular to play as their tenor counterparts. There is a certain appeal that only these bigger instruments can offer due to the deep sound they produce which makes them ideal for big band music or any other venue where you need an "oomph" sound from your instrument.
Many professional musicians choose this size over others because it offers more power when needed most; whether during solos onstage at jazz clubs with dynamics demands on top of range extension capabilities–or simply playing alongside orchestras where extra lift-off volume comes in handy!
Getting to know the bass trombone
The bass trombone is a brass wind instrument made of brass or gold brass. The outer and inner slides are made from nickel silver. It has a cup-shaped mouthpiece, which is a bit larger than the tenor trombone's mouthpiece. The tubing is mostly cylindrical with a length between 269 cm and 290 cm. It is a slide trombone that has two valves that can be operated using the left thumb. The bore is a bit wider than that of a tenor trombone and has an inner diameter of 13.8 mm. The bell has a rim diameter between 22.8 cm and 26.7 cm.
Bass trombone is only second in popularity among the members of the trombone family. The first spot goes to tenor trombone. However, its name is rather misleading since it is actually pitched in B-flat (B♭). It has the same pitch as the tenor trombone. The bass and tenor trombones are alike, except for the two rotary valves. These valves give the bass trombone a lower pitch than the tenor trombone. The valves allow the instrument to lower the sound pitch from B-flat to F or D. The additional third valve for D tuning and the thumb valve for F tuning makes it possible for the whole chromatic scale to become available. 
The bass trombone has a larger bore size, bigger mouthpiece, and bigger bell than the tenor trombone giving it a richer and darker sound in the low register, but less clear in the higher register.
Some of the best bass trombones in the market
Yamaha Ybl-830 Xeno Series Bass Trombone
Yamaha Ybl-830 Xeno Series Trombone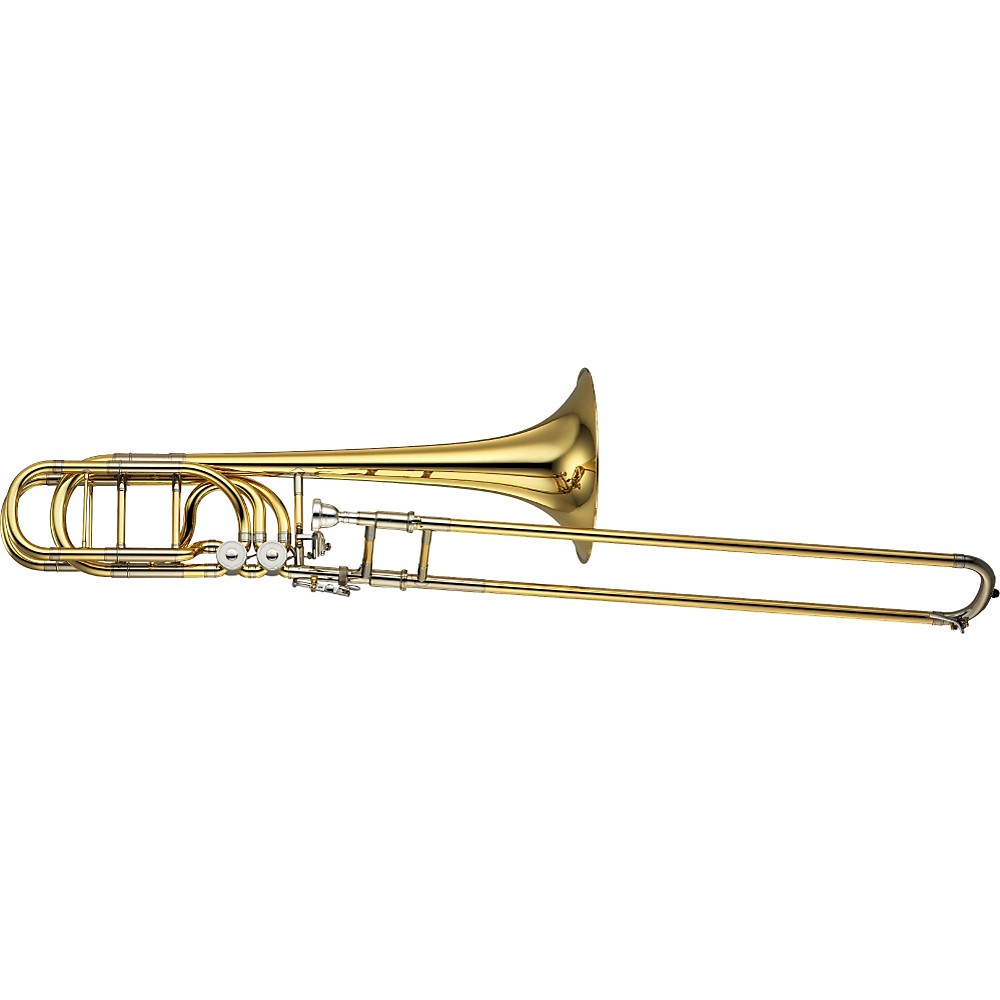 The YBL-830 Xeno Series bass trombone from Yamaha is an instrument that offers unparalleled flexibility and expressiveness, setting it apart from other trombones on the market. One of its standout features is its redesigned bell, which transitions from gold to yellow brass in a thinner stock, allowing for a more open and expressive sound that is sure to impress.
The YBL-830 Xeno Series bass trombone also boasts a range of other high-quality components that make it a top-of-the-line instrument. The large shank, chrome-plated nickel silver inner slide, and drawn yellow brass outer slide all contribute to the trombone's excellent response and smooth playability. Additionally, the redesigned D slide assembly and convex valve cap ensure optimal sound production and projection.
In terms of design, the YBL-830 Xeno Series bass trombone has a compact, contoured shape that makes it comfortable to hold and easy to play for extended periods. The trombone also features two independent, offset rotors that offer a range of playing options, as well as a hand-lapped mechanical linkage for precise and reliable performance.
Finally, the lacquer finish of the YBL-830 Xeno Series bass trombone gives it a sleek and professional look that is sure to turn heads. Whether you are a professional musician or a dedicated student, this instrument is an excellent choice for anyone looking for a high-quality, versatile bass trombone that will elevate their performance to the next level.
Available at Guitar Center 
---
Bach

 50B Series Professional Bass Trombone
Bach 50B Series Professional Bass Trombone
The Bach 50B Series is a highly coveted instrument among bass trombonists, renowned for its exceptional quality and superior performance. This series has maintained its top position in the industry for many years, and it is still crafted to the exacting specifications developed by Mr. Vincent Bach himself. The body and tone of the 50B Series are unmatched, making it an ideal choice for musicians who want to create beautiful music in any ensemble.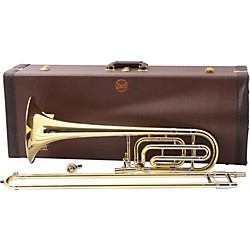 The 50B Bass Trombone is an excellent example of the quality and craftsmanship that Bach is known for. It features a 9.5″ yellow brass bell that delivers a rich and powerful sound. This instrument is truly a piece of history that will allow you to own the sound that has been favored by many renowned musicians.
The Bach 50B3 Stradivarius Series Trombone is the perfect addition to any musician's collection. This instrument is a work of art, with its hand-hammered bell and one-piece yellow brass construction. The finish is beautiful and eye-catching, and the clear, resonant tone of the Bach 50B3 Trombone will make you feel like a true musician.
With its outstanding playability, impressive sound quality, and unparalleled craftsmanship, the Bach 50B Series is an instrument that any serious bass trombonist should consider adding to their collection. It is a top-performing instrument that will allow you to make great music in any setting, whether you are playing in a symphony orchestra, jazz band, or wind ensemble. Invest in the best, and own the sound of history with the Bach 50B Series Trombone.
Available at
---
Xo 1240 Professional Series Bass Trombone
XO series bass trombone from Jupiter Designs
The XO series bass trombone from Jupiter Designs is a highly skilled and precise symphonic instrument. Combining computer-aided design with the craftsmanship of expert artisans, it features a polished chrome inner slide and a computer-aligned outer slide, providing exceptional player sensitivity and action. The powerful dual Thru-Flo valve system produces a commanding sound with excellent tonal clarity and intonation.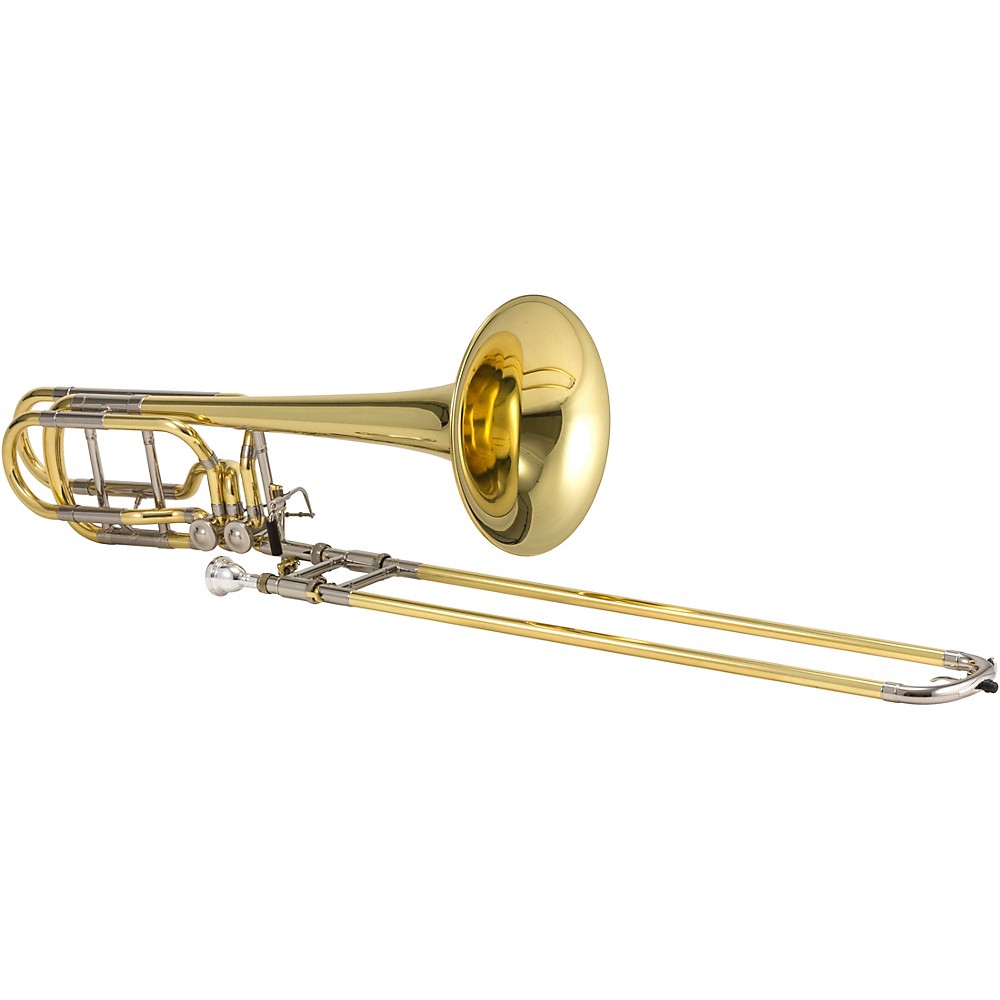 The instrument has a .571″ bore and a handcrafted 9.5″ bell, offering solid presence while maintaining dynamic sensitivity and focus. You can choose between yellow or rose brass for the bell, both of which come with soldered, oversized bell wire for increased sustain and sonic brilliance. The precision hand slide with brass outer tubes and chromed nickel inner tubes provide the smoothest possible operation.
The artist can customize the air column's response with one sterling silver and two brass interchangeable mouthpipes. This magnificent bass trombone rivals major brands and is an investment for a lifetime. Consider the 1240L if you are ready to step up to a superior instrument.
Available at Guitar Center 
---
Allora Atbb-450 Vienna Series Bass Trombone 
Allora Atbb-450 Vienna Series Bass Trombone 
The Allora ATBB-450 Vienna Series Bass Trombone is an affordable option suitable for school programs or advancing musicians. Its .562-inch bore provides a larger sound that is projected through the 9.5″ yellow brass bell. This trombone features a standard leadpipe, inline traditional rotor, and an open wrap F-attachment design, along with a well-weighted hand slide, making it an excellent choice for any school program or advancing musician.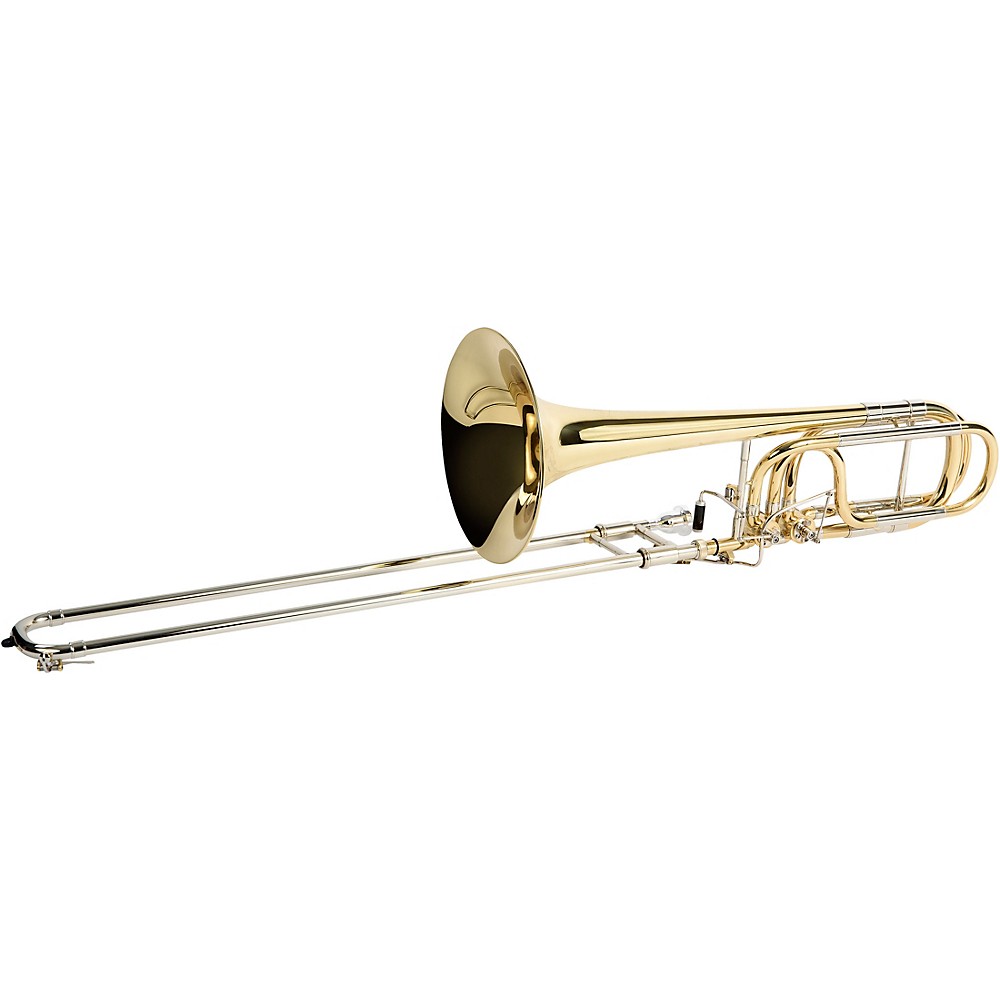 It also comes with a premium nylon polyfoam case, a large shank mouthpiece, and a three-year warranty. Choosing a used or overly cheap instrument can actually decrease your child's interest in music. The Allora Vienna series offers a quality instrument that plays in tune, can withstand student handling, and inspires a sense of ownership.
These instruments are carefully manufactured according to specifications and development accumulated over many years by a team of brass and woodwind buyers. The result is a line of instruments that offer satisfying tone, dynamic capability, and durability, all at a price that makes it easier to get involved in music.
Available at Guitar Center 
---
SE Shires Bass Trombone
S.E. Shires is a renowned name in the world of bass trombones, and their instruments are highly respected by top players across the globe. These bass trombones are known for delivering a clear, colorful sound that stands out in any musical setting. With several standard model configurations and numerous custom options available, S.E. Shires trombones can be customized to fit the specific needs and preferences of any musician.
One of the standout features of S.E. Shires bass trombones is their versatility. They are equally suited for use in classical, jazz, and other genres of music. Whether you are looking for a more traditional instrument or something unique and innovative, S.E. Shires has a bass trombone that will suit your needs.
The company's commitment to excellence and attention to detail is evident in every aspect of its instruments. Each bass trombone is handcrafted using only the highest quality materials and is meticulously tested to ensure that it meets the strictest standards of performance and quality.
Overall, S.E. Shires bass trombones are a top choice for serious musicians looking for an instrument that delivers exceptional sound, versatility, and customization options. Whether you are a seasoned professional or an aspiring student, an S.E. Shires bass trombone is an investment that is sure to enhance your playing experience and take your performance to the next level.
Available at
---
Conn & Selmer 110H Bass Trombone
Conn 110H Series Bass Trombone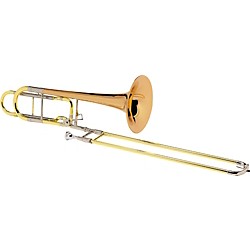 Create a deep, warm, and resonant sound with the Conn & Selmer 110H Bass Trombone. Ideal for symphonic or solo performance, this trombone features a .562″ bore combined with an open wrap F attachment that offers outstanding clarity and projection with an open feel. The 10″ rose brass professional bell produces a deep, warm resonant sound. The chrome-plated nickel silver inner handslide tubes provide the ideal surface for smooth and quick handslide action. The clear lacquer finish adds a subtle warmth overall. Comes with a C.G. Conn 1-1/2G mouthpiece and 7512C wood shell case.
Available at 
---
Yamaha YBL-620G

 Professional Bass Trombone
Yamaha YBL-620G Series Bass Trombone
The Yamaha YBL620G Professional Bass Trombone caters to those who are budget-conscious. It boasts a smaller bell size that produces an excellent tone and is perfect for bass trombonists who are progressing in their skills. This instrument comes with a stacked double-dependent rotor system in the keys of Bb, F, and Eb, with an optional D slide, and a 9.5-inch gold brass bell that ensures exceptional resonance and performance. The Yamaha YBL620G Professional Bass Trombone includes a case and mouthpiece and is available in a lacquer YBL-620G finish.
This professional bass trombone from Yamaha is designed for musicians seeking a robust and high-quality instrument. It features a nickel-silver outer slides and valves that are arranged in an offset configuration for added durability. The instrument produces a dark, rich tone with powerful projection, making it perfect for use in the studio or on stage. Additionally, its lightweight design and quick response make it easy to handle and play.
Available at 
---
Michael Rath R9 Bass Hagmann Bb/ F/ Gb/ D Bass Trombone
The Michael Rath R9 Bass Hagmann Bb/ F/ Gb/ D Bass Trombone is a professional quality instrument that is for experienced musicians. This trombone features a Hagmann valve section for a smooth, responsive sound. The bell size is 9.5″ for a full, rich sound. The brass bell and bronze outer slide create a beautiful look. The red brass tuning slide ensures precise tuning. The mouth pipe is 9 for a comfortable playing experience. This trombone comes with a clear lacquer finish.
---
WILLSON Bass Trombone 
If you want a high-quality bass trombone, you don't need to search any further. The WILLSON Trombone 551TAW is the perfect choice for any musician who desires excellent construction and sound.
This instrument includes ROTAX valves, which provide unbeatable airflow and smoothness. Additionally, the WILLSON Trombone 551TAW has a Rotohead system that is carefully crafted for precise playing and 100% airflow. It is sure to become a beloved part of your collection.
---
Getzen 1052Fd Eterna Series Bass Trombone 
Getzen 1052Fd Eterna Series Bass Trombone 
The Getzen 1052FD is a trombone with several compelling design features. The special valve system allows the player to access the second (Gb) rotor without playing through the F. This allows the player several ways to simplify slide positions in the low range.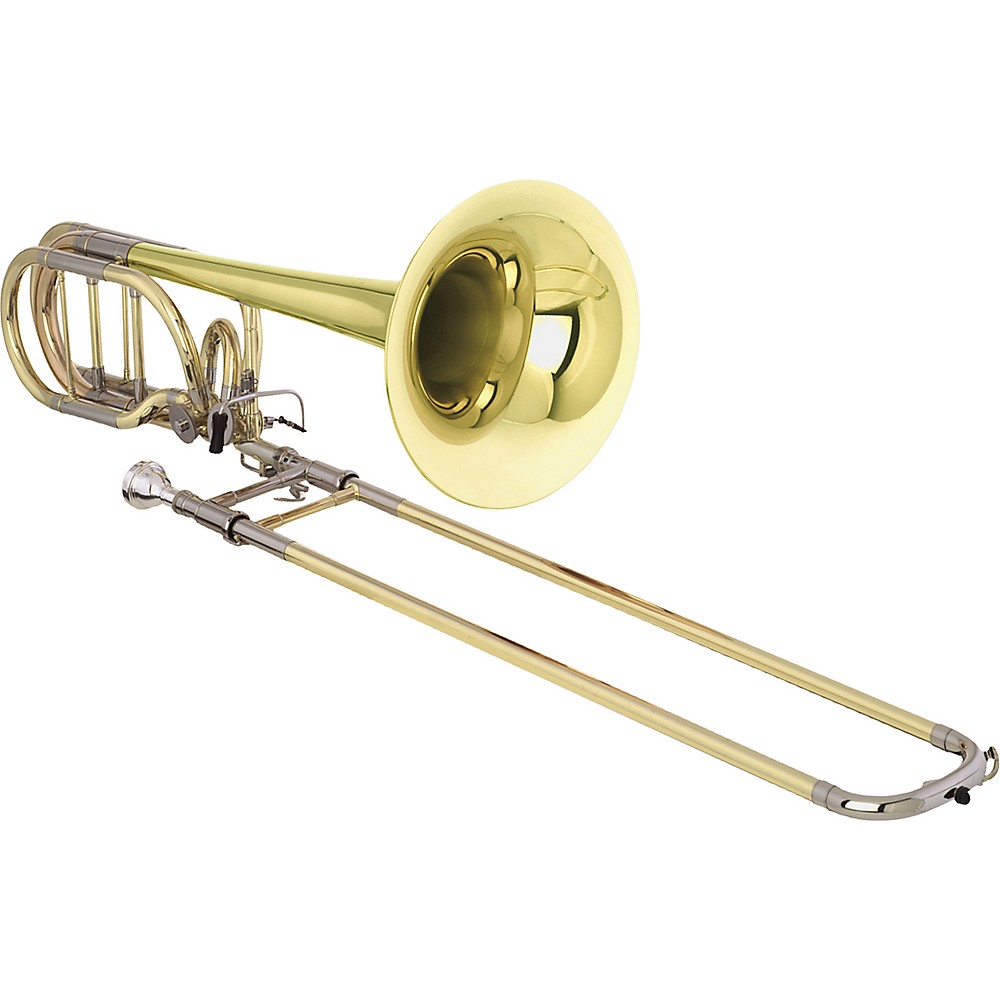 Introducing the latest addition to Getzen's Eterna Series – the 1052Fd bass trombone, which represents the pinnacle of Getzen's innovative design. This instrument features a dual independent rotor system that allows the player to switch between three different mouthpieces, each with a unique sound characteristic. The yellow brass bell and handslide combine to produce a warm, beautiful tone that is suitable for a wide range of musical genres.
One of the most compelling design features of the Getzen 1052FD bass trombone is the special valve system that enables the player to access the second rotor (Gb) without having to play through the F rotor. This allows for simpler slide positions in the lower range, giving the player greater control and flexibility.
In addition to this, the 1052Fd comes with three interchangeable mouthpipes that offer even more versatility. The number one pipe delivers a large-bore tenor feel, while the number two provides blending characteristics. The number three pipe produces a wide, open sound that is perfect for those looking for maximum projection.
To complement these features, the Getzen 1052Fd bass trombone features an incredibly efficient, dual gauge bell that amplifies all of the instrument's characteristics, producing a powerful and beautiful sound in all registers. Whether you are a professional or a student, the Getzen 1052Fd bass trombone is an excellent choice for anyone looking for a versatile, high-quality instrument that will elevate their performance to the next level.
Available at
---
The Antoine Courtois New York series trombone
Antoine Courtois Paris AC551BH Creation Series New Yorker Bass Trombone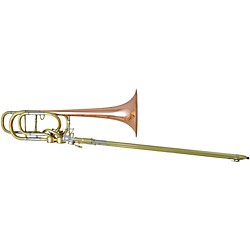 Antoine Courtois has partnered with two exceptional orchestral players, Paul Denson Pollard and Weston Sprott, who play for the New York Metropolitan Opera, to create the New York series trombones.
These two instruments are improved versions of the LEGEND models and come with various features such as specially designed leadpipes, venturi, and playing slides. They also have different setups for assembling points, along with an ergonomic handrest for comfortable playing.
Available at
---
Blessing Bbtb-62R Performance Series Bass Trombone
Blessing Bbtb-62R Performance Series Bass Trombone
The Blessing BBTB-62R Performance bass trombone is renowned for producing a classic dark and weighted sound that forms the foundation of any low brass section. This professional-grade instrument boasts a large 9.5″ rose brass bell that enables the player to produce a broad and colorful sound with increased volume and natural production of lower partials.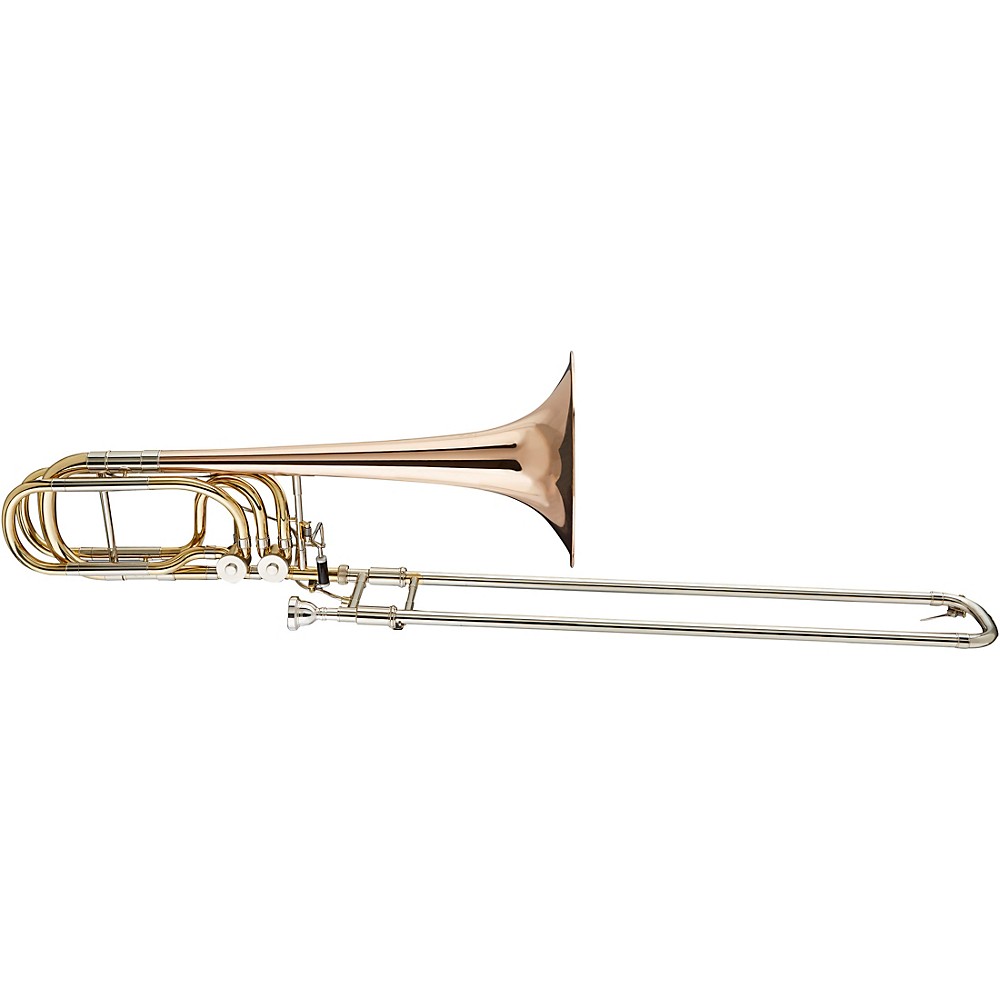 Additionally, the BBTB-62R features a double rotor, independent valve system that offers an extra set of slide positions for tuning and smooth slide changes.
Staying true to the Blessing tradition, this bass trombone is a reliable and affordable option for students that encourages musical growth and development. It is part of the Performance Series.
Available at Guitar Center 
---
The world of bass trombones is filled with a plethora of options for players of all levels. From renowned brands like Bach, Yamaha, and Getzen, there are a variety of models to choose from that offer unique features and designs to suit individual preferences. Whether you are looking for an instrument that produces warm and expressive tones, has a flexible and open feel, or provides exceptional response and smooth playability, the best bass trombones on the market today offer a combination of these features and more.
Ultimately, the right bass trombone for you will depend on your playing style, preferences, and budget, but with so many great options available, you're sure to find an instrument that suits your needs and allows you to make beautiful music.