Nearly all trombonists specialize in tenor trombone or bass trombone. These trombones are the two main sizes and the most popular in the trombone family along with the alto trombone. Between these two, the former is the more popular.
When people talk about the trombone, they are likely referring to the tenor trombone. For this article, we will focus on bass trombones and get to know some of the best ones in the market today.
Bass trombones are not as popular to play as their tenor counterparts. There is a certain appeal that only these bigger instruments can offer due to the deep sound they produce which makes them ideal for big band music or any other venue where you need an "oomph" sound from your instrument.
Many professional musicians choose this size over others because it offers more power when needed most; whether during solos onstage at jazz clubs with dynamics demands on top of range extension capabilities–or simply playing alongside orchestras where extra lift-off volume comes in handy!
Getting to know the bass trombone
The bass trombone is a brass wind instrument made of brass or gold brass. The outer and inner slides are made from nickel silver. It has a cup-shaped mouthpiece, which is a bit larger than the tenor trombone's mouthpiece. The tubing is mostly cylindrical with a length between 269 cm and 290 cm. It is a slide trombone that has two valves that can be operated using the left thumb. The bore is a bit wider than that of a tenor trombone and has an inner diameter of 13.8 mm. The bell has a rim diameter between 22.8 cm and 26.7 cm.
Bass trombone is only second in popularity among the members of the trombone family. The first spot goes to tenor trombone. However, its name is rather misleading since it is actually pitched in B-flat (B♭). It has the same pitch as the tenor trombone. The bass and tenor trombones are alike, except for the two rotary valves. These valves give the bass trombone a lower pitch than the tenor trombone. The valves allow the instrument to lower the sound pitch from B-flat to F or D. The additional third valve for D tuning and the thumb valve for F tuning makes it possible for the whole chromatic scale to become available. 
The bass trombone has a larger bore size, bigger mouthpiece, and bigger bell than the tenor trombone giving it a richer and darker sound in the low register, but less clear in the higher register.
Some of the best bass trombones in the market
Yamaha Ybl-830 Xeno Series Bass Trombone
Yamaha Ybl-830 Xeno Series Trombone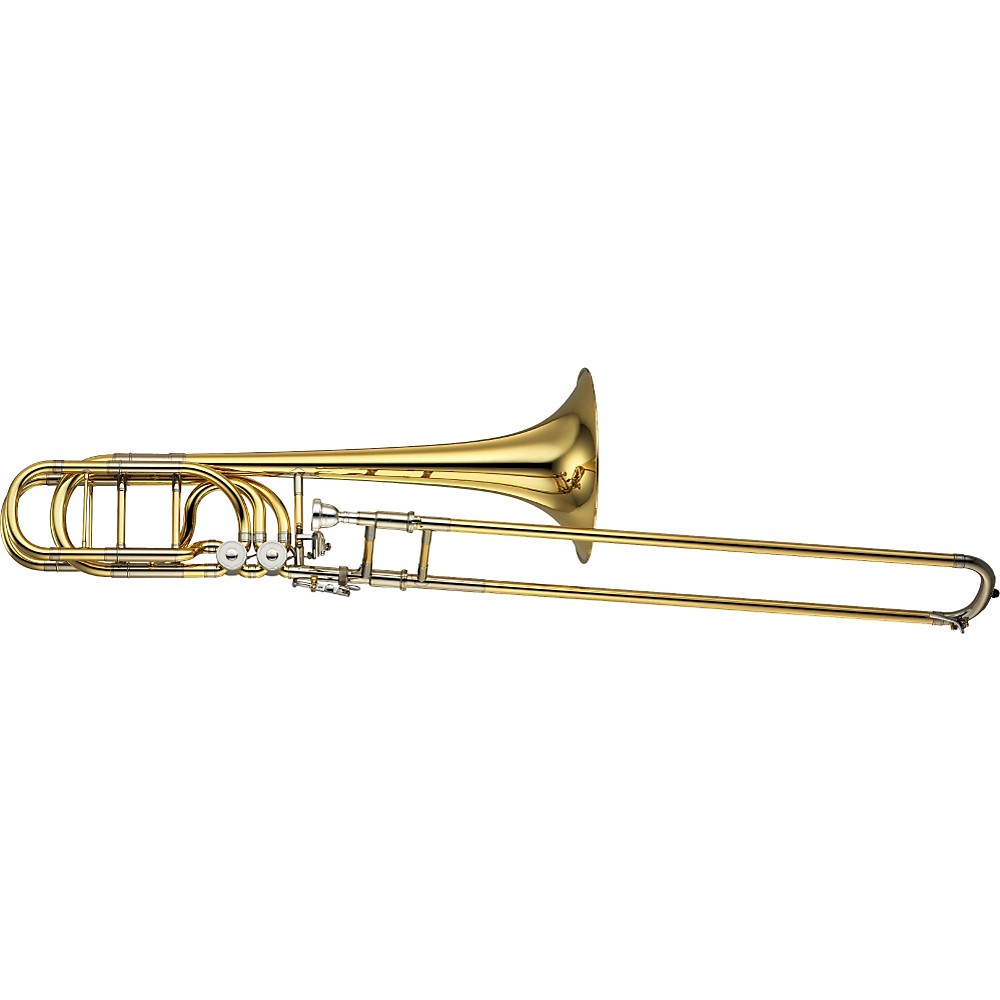 Yamaha bass trombone YBL-830 Xeno Series is a flexible and expressive instrument with an open feel with excellent response compared to other trombones. It features a redesigned bell that changes from gold to yellow brass in a thinner stock helping create a flexible, more expressive sound.
Gold to the yellow brass bell. Large shank.
Chrome-plated nickel silver inner slide.
Drawn yellow brass outer slide. Redesigned D slide assembly.
Convex valve cap.
Compact contoured shape.
Two independent, offset rotors.
Hand-lapped.
Mechanical linkage.
Lacquer finish.
---
Bach 50B3 Stradivarius Series Bass Trombone
Bach 50B3 Stradivarius Series Trombone
Own the sound of history. The Bach 50B3 Stradivarius Series Trombone is the perfect addition to your collection. With its hand-hammered bell and one-piece yellow brass construction, this trombone is a work of art. From its beautiful finish to its clear, resonant tone, the Bach 50B3 Trombone will make you feel like a true musician.
---
SE Shires Bass Trombone
S.E. Shires bass trombones deliver a clear, colorful sound that has made them a favorite of top players around the world. With several standard model configurations and many custom options available, these trombones can be tailored to fit any musical setting. Whether you're looking for a conventional instrument or something more unique, S.E. Shires has a trombone that will suit your needs.
---
Conn & Selmer 110H Bass Trombone
Create a deep, warm, and resonant sound with the Conn & Selmer 110H Bass Trombone. Ideal for symphonic or solo performance, this trombone features a .562″ bore combined with an open wrap F attachment that offers outstanding clarity and projection with an open feel. The 10″ rose brass professional bell produces a deep, warm resonant sound. The chrome-plated nickel silver inner handslide tubes provide the ideal surface for smooth and quick handslide action. The clear lacquer finish adds a subtle warmth overall. Comes with a C.G. Conn 1-1/2G mouthpiece and 7512C wood shell case.
---
YBL-620G

 Professional Bass Trombone
The Yamaha Professional Bass Trombone is for the musician who wants a durable, high-quality instrument. Featuring a nickel-silver outer slide and valves in an offset configuration, this trombone is built to last. The dark rich tone and powerful projection are for the stage or studio. The lightweight and quick response make it easy to play and handle.
---
Michael Rath R9 Bass Hagmann Bb/ F/ Gb/ D Bass Trombone
The Michael Rath R9 Bass Hagmann Bb/ F/ Gb/ D Bass Trombone is a professional quality instrument that is for experienced musicians. This trombone features a Hagmann valve section for a smooth, responsive sound. The bell size is 9.5″ for a full, rich sound. The brass bell and bronze outer slide create a beautiful look. The red brass tuning slide ensures precise tuning. The mouth pipe is 9 for a comfortable playing experience. This trombone comes with a clear lacquer finish.
---
WILLSON Bass Trombone 
If you're looking for a top-of-the-line bass trombone, look no further. The WILLSON Trombone 551TAW is the option for any musician looking for quality construction and sound. This instrument features sensational ROTAX valves, ensuring airflow and smoothness that is unrivaled. With its precision-made Rotohead system and 100% airflow, the WILLSON Trombone 551TAW is sure to be a favorite in your collection.
---
Getzen 1052Fd Eterna Series Bass Trombone 
Getzen 1052Fd Eterna Series Bass Trombone 
The Getzen 1052FD is a trombone with several compelling design features. The special valve system allows the player to access the second (Gb) rotor without playing through the F. This allows the player several ways to simplify slide positions in the low range.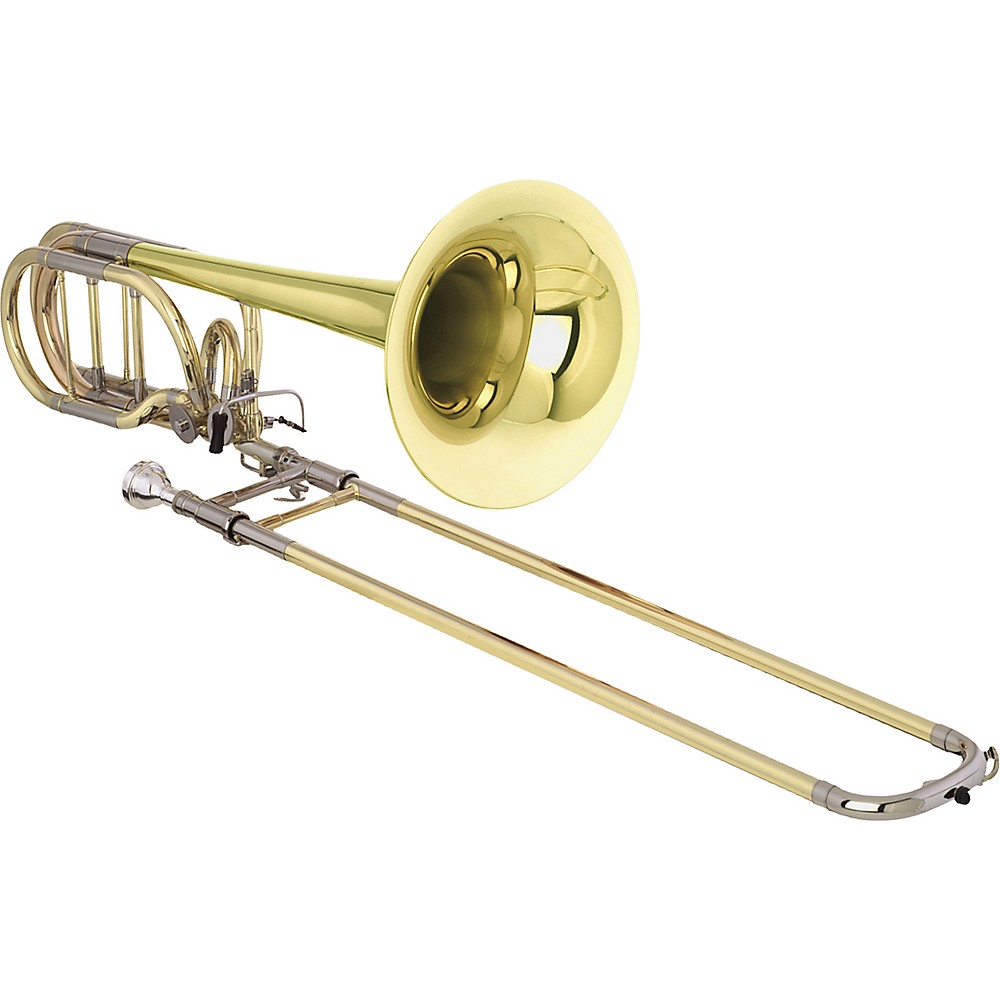 Getzen's newest and most innovative bass trombone is the 1052Fd Eterna Series. This trombone has a unique dual independent rotor system which gives you the option of three different mouthpieces, each with a different sound. With its yellow brass bell and handslide, this instrument produces a beautiful, warm tone that is for any genre of music.
Key:Bb / F / Gb (D).
Bore:.562-inch.
Leadpipe: Three Interchangeable Leadpipes.
Leadpipe Material: Yellow Brass.
Bell:9.5-inch.
Bell Material: Yellow or Red Brass.
Handslide: Standard.
Handslide Material: Yellow Brass Outer Slide.
Handslide Crook: Nickel Silver. F Attachment Wrap: Open Wrap.
F Attachment Valve: Standard.
Features: Dual Independent Rotor System.
Case: Yes.
Mouthpiece: Yes.
Mouthpiece Shank: Large / Bass.
Finish: Lacquer.
---
The Antoine Courtois New York series trombone
---
When buying any musical instrument, it is prudent to inspect it thoroughly and make sure it sounds right. It is necessary to check the item for possible damage.