What is a jazz trombone?
A jazz trombone is a type of trombone that is commonly used in jazz music. It has a unique sound and is known for its expressive capabilities, as well as its ability to improvise and create solos. Jazz trombones are used in a variety of jazz styles, including swing, bebop, cool jazz, and more modern forms of jazz.
One of the key features of a jazz trombone is its slide. The slide allows the player to create a wide range of notes by adjusting the length of the instrument. This makes it possible to play fast, intricate runs and glissandos, or slide between two notes. The slide also allows for subtle nuances in tone and intonation, which can be used to create unique and expressive sounds.
The size of a jazz trombone can vary, but it is typically a medium to large-bore instrument, which means that it has a wide tubing diameter. This gives the instrument a rich, full sound and makes it ideal for playing in a jazz ensemble. Jazz trombones can also have a variety of bell sizes and shapes, which can affect the tone and projection of the instrument.
One of the most well-known jazz trombonists is J.J. Johnson, who was known for his smooth, melodic style of playing. Johnson's playing was characterized by his technical virtuosity and his ability to create complex, harmonically rich solos. Other famous jazz trombonists include Frank Rosolino, Carl Fontana, and Wycliffe Gordon, among others.
When selecting a jazz trombone, there are several factors to consider. The player should consider the size of the instrument, the bore size, and the bell size and shape. They should also consider the material of the instrument, which can affect the sound quality and projection.
Here are the best jazz trombones on the market, along with a brief description of each:
1. Bach Stradivarius 42B Trombone
The Bach 42B Stradivarius Series Trombone is a highly sought-after instrument suitable for professional trombonists and advanced students. Its open-wrap design eliminates excessive tubing bends, resulting in an unrestricted and effortless blowing experience. This Bach Stradivarius F-attachment trombone produces a large, symphonic sound with excellent projection due to its 547″ bore and 8.5″ bell. It comes with a case and mouthpiece for added convenience. The 42BO series features an open-wrap F attachment section that delivers a consistent sound, so the trombone's sound remains uniform with or without the trigger's engagement. 
Bach Stradivarius trombones are renowned for their fullness of sound and projection, achieved through the use of one-piece construction that allows unrestricted bell vibration. The bell material and shape also impact the sound. Gold brass, with its higher copper content, results in a warm tone, while silver-plated bells create a focused sound with excellent projection. Players who require an instrument with dark qualities or high-dynamic levels without distortion can special-order trombones with heavyweight yellow or gold brass bells. Lightweight handslides with nickel silver tubing reduce the slide's weight, enabling quicker response and better corrosion resistance.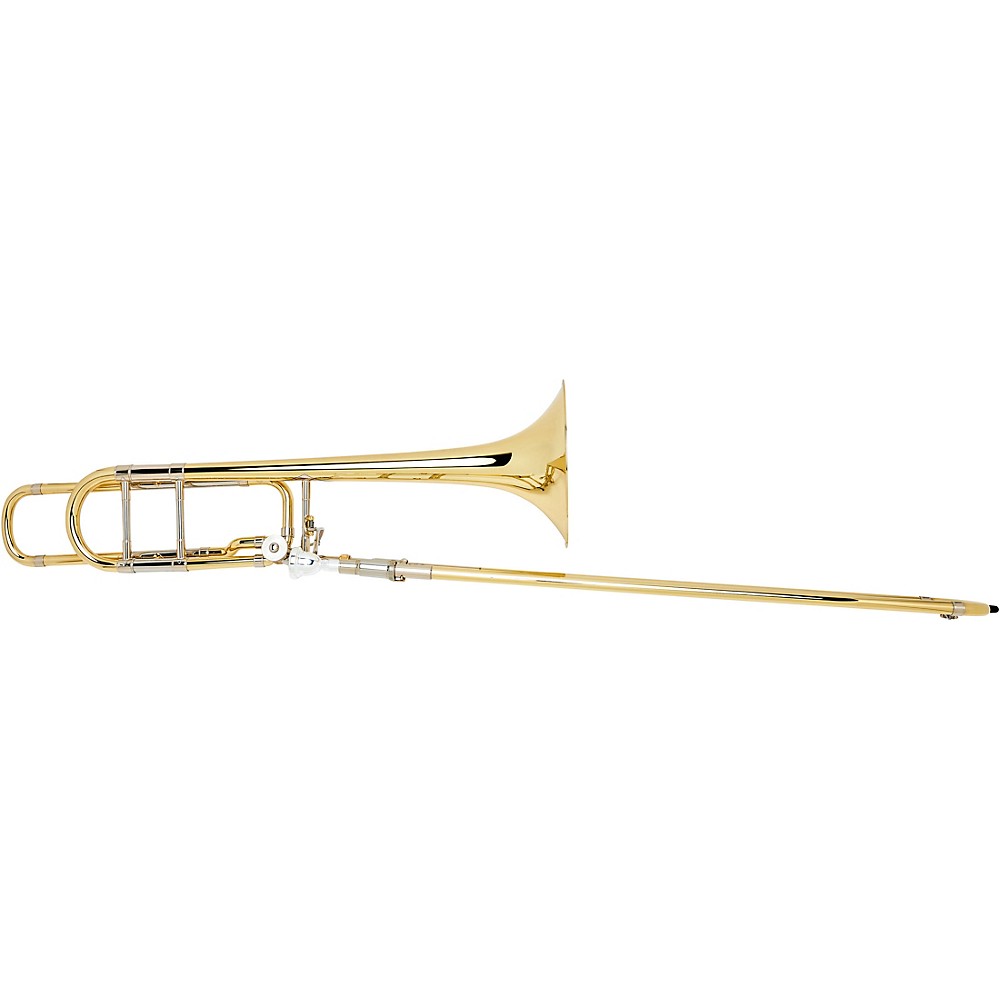 This trombone has a Bb/F key and a .547″ bore, and its leadpipe is made of yellow brass. Its 8.5″ one-piece hand-hammered bell is also made of yellow brass, gold brass, or sterling silver. The standard or lightweight handslide is crafted from yellow brass or nickel silver, respectively. The F-attachment wrap is open, and the valve is standard, while the instrument features ball-bearing rotor linkage, nickel silver tuning slide receivers, and tubular nickel silver braces. The trombone comes in a deluxe wood shell case with an attached cover, and it includes a Bach 6.5A mouthpiece with a large shank.
Available at Guitar Center
---
2. Conn 88H Symphony Series Trombone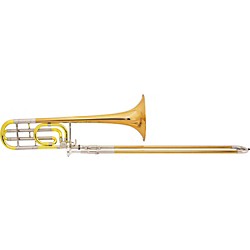 The 88H Series is equipped with a .547 primary bore and a .562 bore standard wrap F attachment, as well as an 8.5-inch bell that delivers exceptional clarity and projection. The trombone is available in the key of Bb and features a fixed yellow brass leadpipe. The bell is available in rose brass, yellow brass, or sterling silver, while the handslide is made of rose brass and is of standard weight. The handslide crook is crafted from nickel silver. This trombone is widely known as a classic jazz instrument and has been played by numerous famous jazz trombonists.
Available at
---
3. King 2B Legend Series Trombone 2BG or 2BS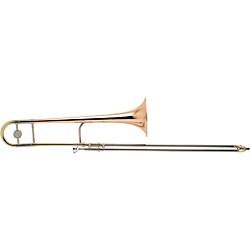 The King 2B Legend Series Trombone is a remarkable instrument that stands out in the world of jazz music. Its medium-bore design produces a bright and clear sound that is perfect for jazz performances. The small and lightweight bell of the King 2B makes it easier for the musician to play in different styles of jazz music without sacrificing the clarity of the sound.
Additionally, the trombone is highly responsive and allows for easy playing in the upper register, making it a great choice for virtuosic jazz soloists. Overall, the King 2B trombone is an excellent choice for jazz musicians who are looking for a reliable and versatile instrument that can deliver exceptional sound quality.
Available at
---
4. Yamaha YSL-8820 Trombone
The YSL-882O Xeno Series F-Attachment Trombone, developed in collaboration with prominent professionals, has earned widespread acclaim for its remarkable features. It boasts a .547″ bore, a fixed gold brass leadpipe, and an 8-11/16″ one-piece hand-hammered bell, as well as a yellow brass drawn one-piece outer slide, a chrome-plated nickel silver drawn inner slide, an open F attachment wrap, and a lacquer finish. This trombone is tuned to Bb/F and has a bore size of .547 inches with a fixed leadpipe.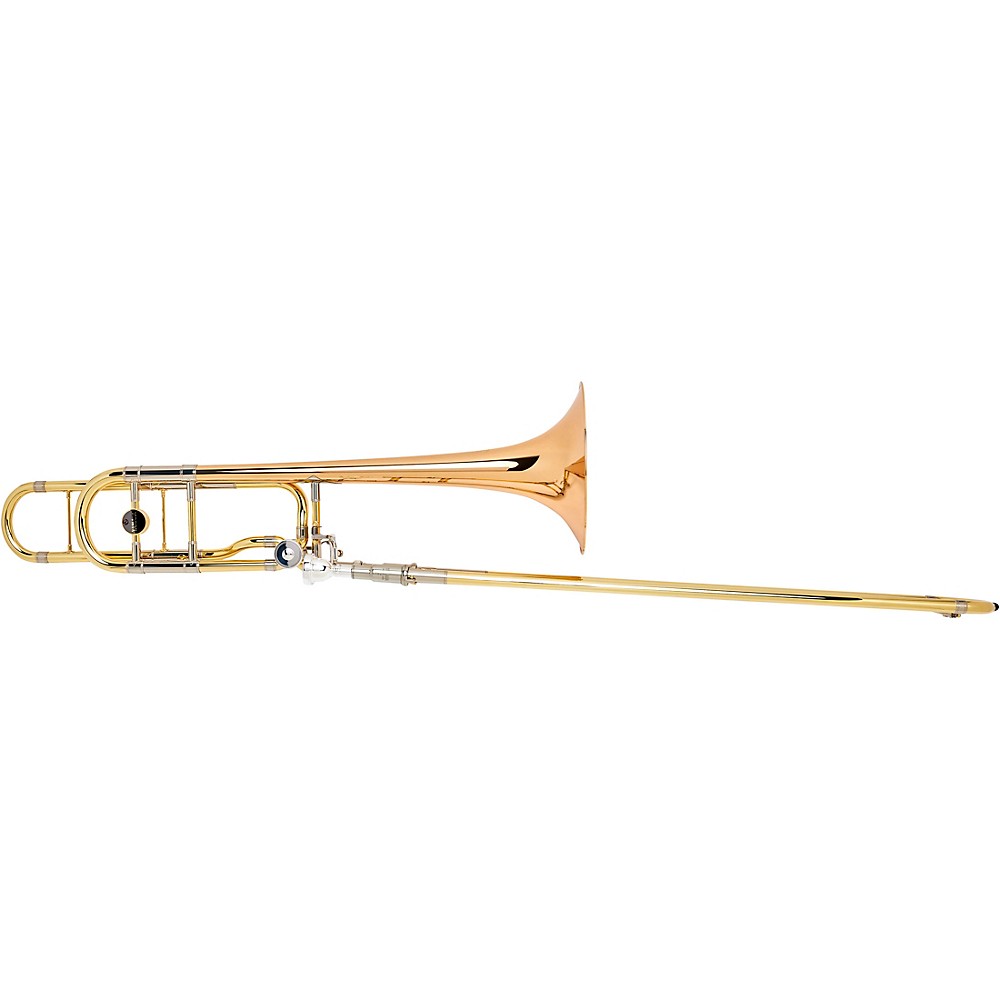 With its one-piece yellow brass bell, the Yamaha YSL-8820 Trombone delivers a warm, dark tone and a powerful sound. Its lightweight and well-balanced slide also makes it ideal for playing fast passages with ease.
Available at Guitar Center
---
5. Getzen 1047F Eterna Series Trombone
Getzen Eterna Series 1047F Trombones have served generations of working musicians, serious amateur players, and students in a variety of settings. The Getzen 1047F Bb Tenor Trombone with open wrap F attachment is a high-quality trombone that is ideal for the professional or the committed student.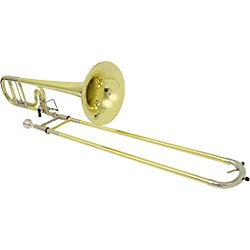 It features hand-straightened nickel silver inside tubes chrome plated with barrel-shaped stockings, yellow brass outside tubes with nickel silver end crook, and a yellow brass tuning slide with a rounded bow. From jazz to classical, Getzen Eterna Tenor Trombones have the right setup for any serious trombone player. Each instrument is individually hand-mounted and all of the bells are hand-spun. No matter what style of music you play, Eterna Tenor Trombones have both the sound and dependable performance you need..547 bore8.5 yellow brass or rose brass bell Open-wrap F attachment.
Available at
---
Choosing the best jazz trombones ultimately depends on personal preference and playing style. However, there are several top-quality options available on the market that offer outstanding sound and performance. The King 2B, Conn 88H, and Yamaha YSL-882O Xeno are among the most highly regarded jazz trombones by professionals and are worth considering for serious trombone players. With proper care and maintenance, a good jazz trombone can provide years of enjoyment and help you achieve your musical goals.