So you've learnt a few positions and some notes… what's next? Finding good trombone music books for beginners can be tough. Whether you are a teacher or a pupil, finding pieces that suit your level and are fun to learn can be more difficult than actually learning to play it! Tutor books can focus too much on learning notes instead of looking at fun pieces. This article will look at some of the best trombone books for beginners that you can buy to supplement a tutor book and/or expand the repertoire of a beginner.
We have included our all time favourite beginner trombone book as well as a selection of the best trombone books for the young trombone player and the best beginning adult trombone books.
Our Top Pick Beginner Trombone Book
Our star pick for trombone books for beginners is Essential Elements Trombone Book 1 by famous trombonist Hal Leonard.
Why Essential Elements for Band Book 1 is Our Best Trombone Beginner Book
The Essential Elements for Band Book 1 offers young students sound pedagogy and engaging music, all carefully paced to successfully start them on their musical journey. The practicing activities in this book are perfect for beginners. Basic Elements for Band offers new learners a sound teaching method and music drawings.
This is a very good resource for learning the trombone. EE features popular songs and specially designed lessons for the classroom. It also contains exercises for each student to work on their own specific skill.
The book does not only provide musicianship skills for amateurs, but also for professionals. The book is a combination of a variety of materials to develop total musicianship in no time. The melodies and training activities are pre-designed to teach you about harmonies, and the book itself is filled with a wealth of resources that can be used by both teachers and students.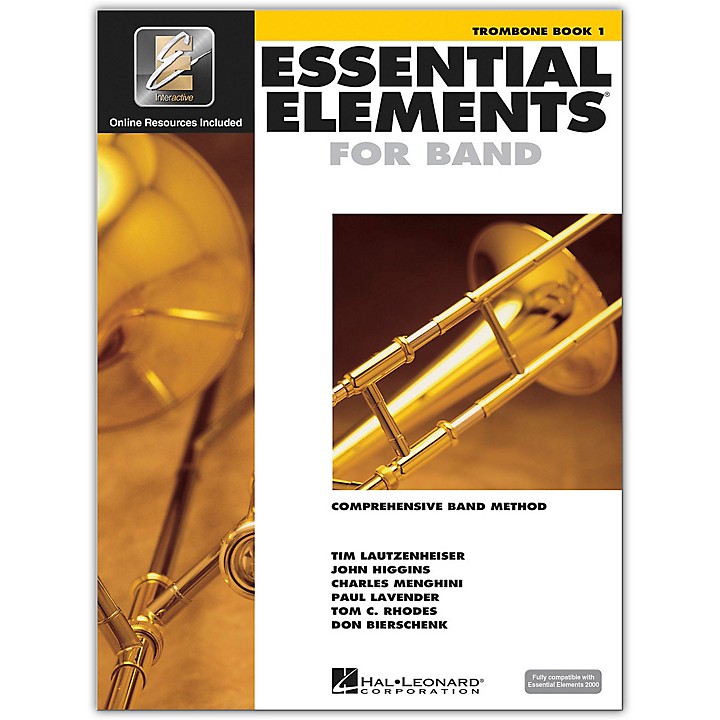 The Best Trombone Books For Beginners That Everyone Should Have
There is no doubt about it, whether you are a young trombone player or a more experienced trombone player, these beginner trombone books deserve to be on your shelf.
Alfred Sound Innovations for Concert Band Book 1 Trombone Book CD/ DVD
Alfred has created a much needed resource for beginners with this innovative method. Focusing on the fundamentals, this book helps any beginning band director teach their students all about the basics including breathing, posture, articulation, and dynamics. Accompanying all of this is an easy-to-use DVD and CD to help reinforce what is practiced in the classroom. This method was designed to introduce the beginning trombone player to the essential skills, concepts and terminology of the trombone through guided discovery and exploration of the instrument.
This contemporary beginning method builds a strong foundation of technique, music reading, and musicianship skills. SI Online allows you to change the pacing and focus of your instruction any time during the course. It also has streaming video and audio, and access to many more resources. To learn more, go to www.alfred.com/si-online.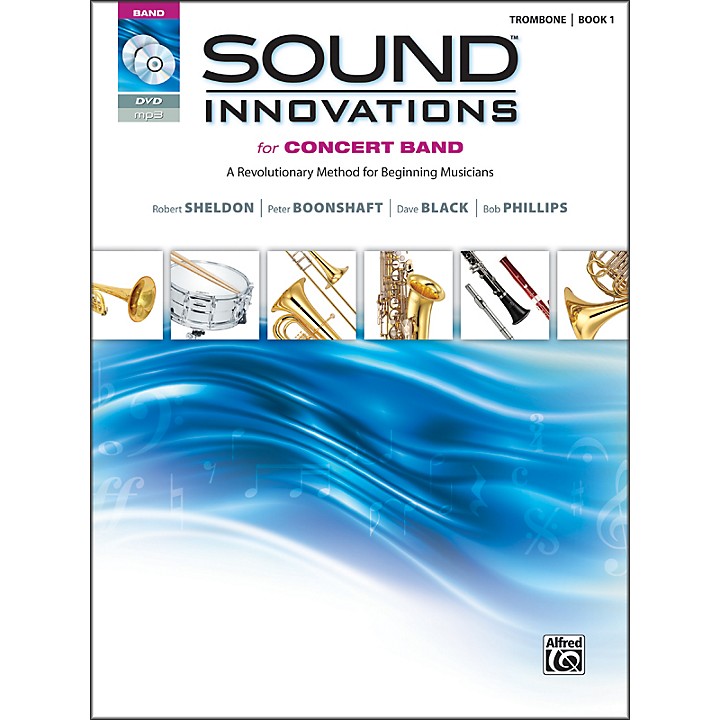 Hal Leonard First 50 Songs You Should Play on the Trombone
A must-have beginner trombone music book, this best-selling book features a wide variety of songs, ranging from rock & roll to classical; from modern favorites like "Night Train" to timeless classics like "Seventy Six Trombones." From the simplest to the most complex, these are the first 50 songs you should play on trombone.
Other songs include: Evermore · Goodbye · Hello · Hello, Dolly! · I'm Getting Sentimental over You · Marie · Old Time Rock & Roll · Opus One · Peter Gunn · The Star-Spangled Banner · A Taste of Honey · and more.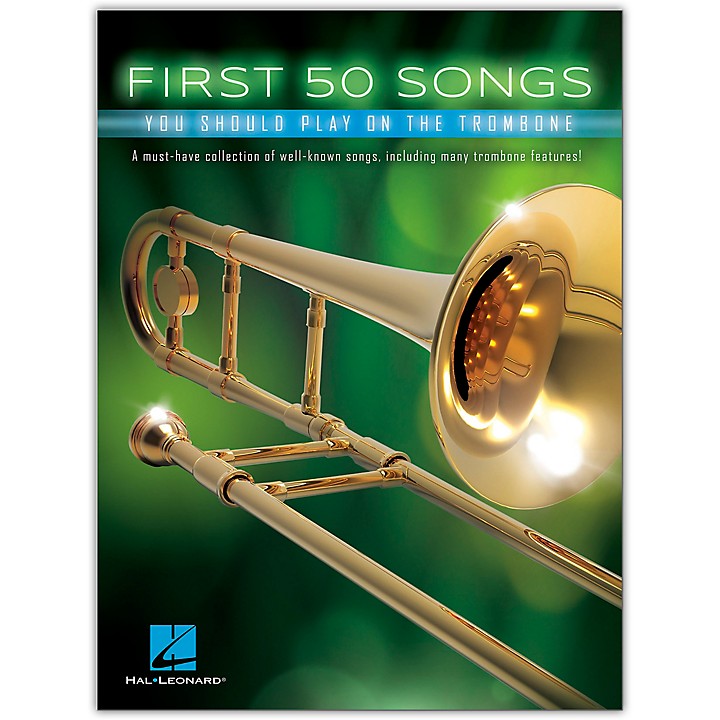 Making Music Matter – Book 1 – Trombone
Making Music Matter Book 1 Trombone is a beginning band method for students. It is a student-friendly guide to learning how to play an instrument. Within this beginner trombone book are skillfully presented lessons that help students develop skills, creativity, and performance. The lessons are accompanied by 24 original works by Frank Ticheli as well as 15 solo pieces with optional piano accompaniment.
In this program, each band member will learn to play a musical instrument. It's not only about learning the instrument, but also experiencing the joy of making music. The ultimate goal is to develop the ability to make music whilst enjoying it.
Best Trombone Books For Young Beginners
These trombone books for beginners are perfect for any young trombone player. With their motivating and inspirational nature there are the best starting point for building a hobby or career that will last you a lifetime.
The Real Book for Beginning Elementary Band Students (Trombone): Seventy Famous Songs Using Just Six Notes
Young band students will be able to play 70 famous songs with just 6 notes. This trombone music book for beginners uses two different arrangements of each song – one with the note names and one with standard musical notation. The over-sized notation is easy to read.
Best Beginning Trombone Book for Kids: Beginning to Intermediate Trombone Method Book for Students and Children of All Ages
A fun beginner trombone music book that teaches fundamentals to young trombonists. This book is a perfect first year method or a second year review and continuing book for the progressing intermediate student.
This book is a collection of traditional songs and exercises for trombone. It includes tons of musical examples, scales, arpeggios, songs, solos, duets and trios. It also includes dozens of fun illustrations. The beginner trombone book can be used to create customized instrumental ensembles.
Tons of Tunes for the Beginner (audio access included): Bassoon/Trombone/Euphonium B.C./T.C. – Grade 0.5 to 1
The best way for beginners to learn to play music is to play songs they already know. In this trombone music book for beginners, you can find a lot of beginner-friendly songs that you already know, or are very familiar with. The only thing that you need to do is to figure out the right notes! This book will help you do just that.
Kids can play along with the audio accompaniment or with any combination of solo instruments for tons of practice fun! 32 favorite tunes are included, including Bingo, I've Been Working on the Railroad, Ode to Joy, Take Me Out to the Ballgame, and Yankee Doodle.
The audio files are available online using the unique code inside your book. Audio is accessed using PLAYBACK+, a multi-functional audio player that allows you to slow down audio without changing pitch, set loop points, change keys, and pan left or right.
Easy Jazzy 'Tudes – Mark Nightingale
This beginner trombone book is full of jazz inspired original etudes by Mark Nightingale. Similarly to Easy Winners, several of the pieces are on grade exam syllabuses. The whole book ranges right from grade 1-grade 5/6 level and explores multiple jazz styles and feels. Highly recommended.
The maestro Mark Nightingale has written a jazz etude book for the younger generation. The book is full of fun descriptive titles such as "Fiesta Siesta" and "Ready Aim Fire." Each piece is full of wit from the talented cartoonist John Webb.
Easy Jazzy 'Tudes has been selected for ABRSM Trumpet, Cornet, Flugelhorn, French Horn, Euphonium, Bass and Tuba exams. Easy Jazzy 'Etudes is the number one best seller of Warwick Music. It's suitable for anyone learning to play the trumpet/cornet, flugelhorn, French horn, baritone, euphonium, bass and tuba.
Treble Clef
Bass Clef
Easy Winners – Peter Lawrance
Easy Winners is a great book that is full of popular tunes from stage, film and TV shows. It also includes classical and pop songs. These pieces have been arranged for treble and bass clef brass instruments by Peter Lawrance. The books includes many songs that are on the syllabus for the early grade exams (namely ABRSM and Trinity Guildhall).
This beginner trombone book is perfect for a young beginner as there are so many short pieces included. I would recommend buying a version with a backing track because if you are using the book to prepare for a graded exam, it will be good preparation for playing along with a piano.
Examples of songs included are: As Long As He Needs Me (Oliver!), Auld Lang Syne, Eastenders Theme, I Feel Pretty (West Side Story), James Bond Theme, Jingle Bell Rock, Match Of The Day, One Hand, One Heart (West Side Story) etc.
Best Adult Trombone Books For Beginners Trombone
If you are teaching an older beginner or have decided to teach yourself trombone a bit later in life, some of the trombone books for beginners mentioned earlier in the article might either be too easy or aimed at too young an audience. This selection of trombone music books for beginners are easy to read and understand and provide a great starting point for the beginning musician.
First/Second Book of Trombone Solos -Edited by Peter Goodwin and Leslie Pearson
The First Book of Trombone Solos is designed to help a beginner trombonist to gain confidence working with an accompanist. This book offers a wide selection of music from different composers, historic periods and in many styles. It is arranged in increasing order of difficulty from elementary to intermediate level.
This trombone beginner book introduces trombonists to the experience of playing with an accompanist at an early stage. It offers a wide selection of music from different composers, historic periods and in many styles. The book progresses from elementary to intermediate level.
With this new beginner trombone music book, you will learn how to incorporate new things into your playing. You will discover how to make things more musical. These pieces will encourage you to play with more awareness of musicality.
Examples of songs included: Walking In The Air (Blake), The Fruits of Love (Holborne), Saraband (Pachelbel), Song Without Words (Mendelssohn), Memory (Lloyd Webber), Rococco Varations (Tchaikovsky)
Second Book of Trombone Solos (Faber Edition)
The Second Book of Trombone Solos is for the player who already has a reasonably well developed technique and range but is not yet ready for the sonata and concerto repertoire. There are 14 pieces contained in the beginner trombone book and there is also an appendix at the back which offers handy hints to enhance musical understanding of the pieces.
For trombonists who have a basic understanding of range and technique, but are not yet ready for sonatas, The Second Book of Trombone Solos is for you. This beginner trombone book is arranged by difficulty, from fairly easy to fairly difficult. The music in this book shows a variety of styles from different composers. The piano parts help you feel confident while playing with others. A section at the back of the book offers practical advice and helps you understand the music better.
Examples of songs included: Intermezzo (Brahms), Sonata (Fontana), Sonata in F Minor (Telemann) amongst others
Sale
Alfred Breeze-Easy Method for Trombone or Baritone Book I
The Breeze-Easy Series is a series of methods designed to help instrumentalists reach their full potential. It was created by John Kinyon and Valentine Anzalone, two experienced musicians who developed it in order to teach more students under limited circumstances.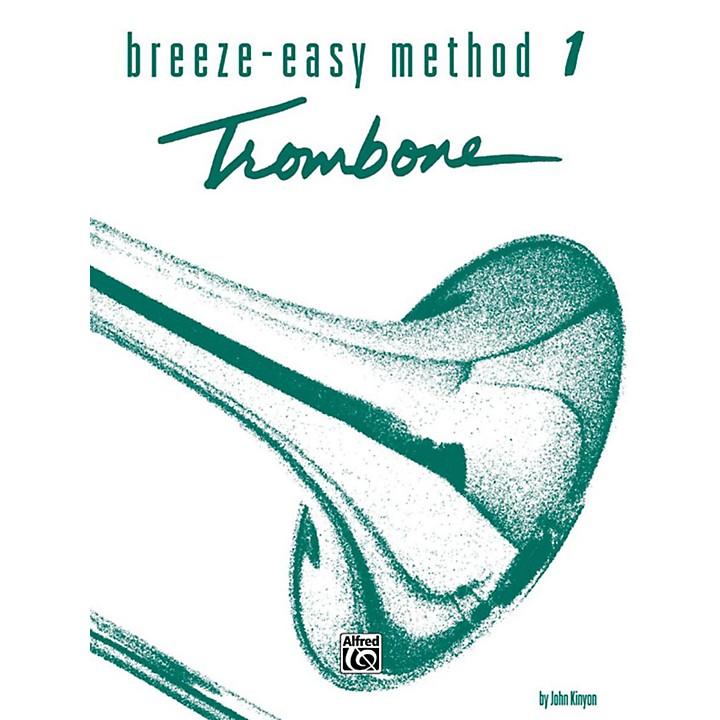 FJH Music Measures of Success Trombone Book 1
Measures of Success is divided into six chapters (Opus 1 through 6). Each "Opus" is followed by a full-page assessment. You are able to attain achievable benchmarks throughout the method, which keeps you motivated, excited, and playing your instrument. In this beginner trombone book the history of music is presented alongside the history of art, literature, and world events in a way that encourages students to explore all subjects. Students are presented with composers' pictures, paintings, authors' biographies and literature, world events, and fun facts throughout the method. This supports the National Standards for music education and encourages cross-disciplinary learning. All of the exercises are played twice by professional musicians. The first time, the student plays along with the band or orchestra. The second time, the musician plays alone. A variety of styles and instruments are available including rock, funk, Latin, jazz, country, electronic, and world music.
Alfred Learn to Play Trombone! Book 1
This beginner trombone book teaches you how to play the trombone. It emphasizes proper tone, rhythm, and overall musicianship. It's a guide written by specialists in the field.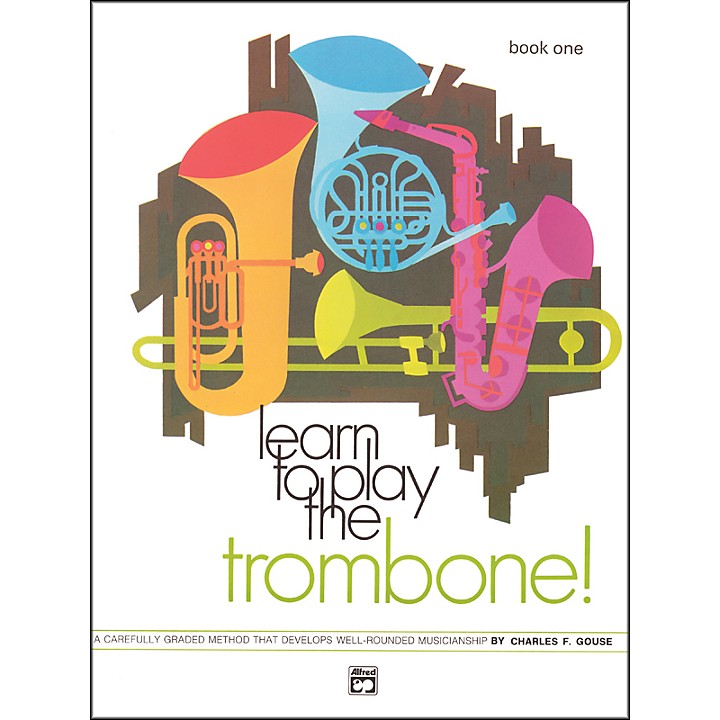 To conclude…
Any music that gets you or your students excited about playing is worth taking the time to learn and explore. If you really want to learn a particular song on any instrument, often it can be more valuable to set these small goals to keep motivation and enjoyment levels high. The trombone books for beginners mentioned in this article are all aimed towards broadening general playing ability and can be used as practice aids to ensure you keep moving your playing onwards and upwards through regular practice.
Make sure to check what clef you are learning in – treble clef is quite often taught in the UK and is used in brass banding. Most students will be learning in bass clef but parents especially should make sure of which clef your child is learning.
Do you have a favorite beginner trombone book? If so, drop us a message. We'd love to hear from you and would greatly value your input!